Afghanistan: human rights defenders under increased attack - new briefing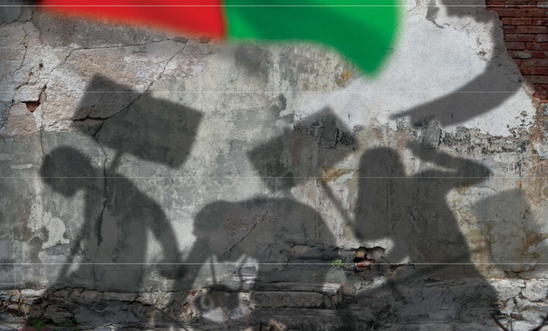 Afghanistan's human rights community are facing face intimidation, harassment, threats and violence amid intensifying attacks from both the authorities and armed groups, Amnesty International said in a new briefing released today (28 August).
While violence escalates in Afghanistan - last year saw the highest levels of civilian deaths on record - human rights defenders and activists have been largely ignored by the Afghan government and the international community.
In the briefing, Defenceless Defenders: Attacks on Afghanistan's Human Rights Community, Amnesty reveals how the Afghan government has repeatedly failed to investigate attacks on activists, sometimes accusing them of 'fabricating' their claims and even telling them to take up arms to defend themselves.
Omar Waraich, Deputy South Asia Director at Amnesty International, said:
"This is one of the most dangerous moments to be a human rights activist in Afghanistan. Not only do they operate in one of the most hazardous environments, but they face threats from both the government and armed groups.

"Afghanistan's human rights defenders and activists have shown great courage despite the very difficult context in which they operate. Faced with grave threats to their lives and well-being, they continue to speak up against injustice and stand up for the rights of others.

"The Afghan government has a duty to respect, protect and support activists, to investigate threats and attacks against them, and to hold suspected perpetrators accountable.

"The international community has an important role to play here. They have long paid tribute to the bravery of Afghanistan's human rights activists, but they have failed to recognise their achievements and effectively support them at this increasingly difficult time. The international community must step forward and provide Afghanistan's human rights community with the support they urgently need."
Violence, threats and killings
In the briefing, Amnesty details how human rights defenders and activists have been intimidated, harassed, threatened, shot at, and killed in attacks that the Afghan authorities have failed to investigate and prosecute.
•           In October 2015, two staff members of Afghanistan's Independent Human Rights Commission (AIHRC) were killed and two others wounded when a roadside bomb went off in the eastern province of Nangarhar. An AIHRC official said: "As of today, the government unfortunately has not arrested anyone. We have not been informed of any progress [in the investigation]."
•           In September 2016, Khalil Parsa, a human rights activist from Herat province, was shot seven times while driving home. The attack came after he had received a series of threats, warning him to stop his human rights work. When he reported these threats to the National Directorate of Security, Khalil Parsa was merely told to inform the security agencies the next time an incident happens. After leaving the country temporarily to seek safety elsewhere, he was told that the government will not investigate the attack against him.
•           In October 2018, Mohammed* was walking home in Kabul when he was chased near his home and shot, injuring his liver. Mohammed was not provided with any protection, despite appealing to the authorities. Mohammed was told to buy a gun and "protect himself". He was forced to relocate for his safety.
•           Hasiba* is a lawyer who defends women who have suffered domestic violence, are seeking divorce, or who face criminal charges. Since 2017, Hasiba has received repeated threats of violence, including acid attacks. The police registered her case, but took no further action, forcing her to close her law firm for seven months.
"There is no trust"
Following failures to protect human rights defenders and activists, and to investigate and prosecute threats and attacks against them, several human rights activists told Amnesty that there is no trust in the government.
Human rights activist Ishaqzia* told Amnesty: "There is no trust. We understood that we would not be protected."
The feeling has been exacerbated by incidents where the authorities have accused the activists of making up the threats against them or refused to offer protection.
Shahzad* is a human rights activist who received threats from the Taliban on Facebook. One of the messages said: "You are the servant of the Jews and in the infidels. We have informed the mujahideen to send you to hell."
When Shahzad reported the threats to the AIHRC, they forwarded them on to the National Directorate for Security, Afghanistan's intelligence agency, who refused to take the threats seriously, and dismissed them as "fabricated".
Two activists interviewed by Amnesty said that when they reported attacks on them, they were not offered protection and instead told to buy weapons and protect themselves.
Threatened by the government
In December 2016, Afghan President Ashraf Ghani vowed to protect the rights of human rights defenders and activists. He told a conference hosted by the AIHRC: "Protection of human rights defenders is the sole responsibility of my government and its legislative and judicial branches."
But far from upholding this commitment, the government has itself been responsible for intimidation, harassment and threats against human rights defenders and activists.
In June 2016, the Afghan authorities deployed excessive force in Kabul's Zanbaq Square to crush a protest against civilian casualties in the conflict. At an earlier protest, one of the organisers told Amnesty he was contacted by the President's Office and warned to clear away the protestors' tents because they could come "under attack" from armed groups – something he interpreted as a threat.
In May 2017, Afghanistan's record on torture was under review at the United Nations. Ahead of the review by the UN Committee against Torture, a civil society group was forced to remove the names of senior government officials mentioned in a "shadow report" before they submitted it.
*Names have been changed.