Afghanistan: harrowing testimonies from Kunduz tell of Taliban rape and death squads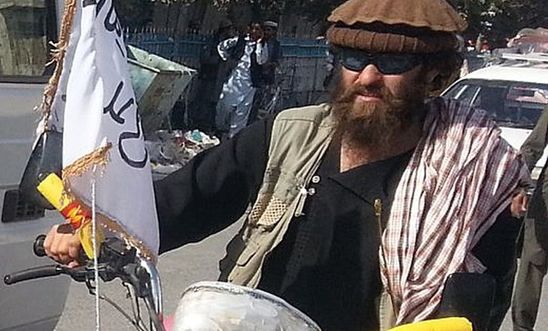 A Taliban fighter in Kunduz earlier this week © AFP/Getty Images
Women activists hunted down with Taliban 'hit list'
Amnesty International has received harrowing testimony from eyewitnesses to the Taliban's lightning capture of the northern Afghan city of Kunduz this week, with terrorised residents reporting mass murder, gang rapes and house-to-house searches by Taliban death squads.
Amnesty has spoken to numerous people - the majority of them women - who have fled Kunduz since Monday, when the Taliban launched a sudden assault on the city.
Many of them confirmed the existence of a "hit list" being used by the Taliban to track down activists and others, and described how fighters had raped and killed numerous civilians. 
One woman who provides assistance to victims of domestic violence in Kunduz told Amnesty that the Taliban "hit list" includes the names and photos of activists, journalists and civil servants based in Kunduz. When the Taliban took control of the National Directorate of Security and other government and NGO offices in Kunduz on Monday, they gained access to reams of information about NGO staff, government employees and members of the security forces - including addresses, phone numbers and photos. Since then, Taliban fighters have allegedly been using young boys to help them conduct house-to-house searches to locate and abduct their targets, including women. 
The domestic violence activist described to Amnesty how she and others had narrowly escaped the city, avoiding Taliban roadblocks on exit routes and trekking for more than seven hours over rough terrain, leaving them exhausted and with bloodied feet.
Meanwhile, another woman activist had her home and office burned and looted by the Taliban on Tuesday night. Taliban fighters also kept calling her to ask about the whereabouts of the women whom she had been helping. She and several other women managed to receive assistance for themselves and their children to flee to safety, but she told Amnesty that she and her family escaped with nothing more than the clothes on their backs and were left terrified by the ordeal.  
In another case, the relative of a woman who worked as a midwife in Kunduz maternity hospital told Amnesty how Taliban fighters gang-raped and then killed the woman and another midwife after accusing them of providing reproductive health services to women in the city. 
Having released all the male prisoners held in Kunduz and given them arms to fight against government forces, the Taliban also beat and raped female prisoners, abducting some of them. Meanwhile, according to local activists, Taliban fighters have also raped female relatives and killed family members - including children - of police commanders and soldiers, especially those working for the Afghan Local Police. The Taliban also burnt down the families' houses and looted their belongings.
An eyewitness told Amnesty that a civilian woman in his neighbourhood had been shot amid fighting between Taliban and the Afghan security forces. Taliban fighters responded to her screams of pain by entering her house and shooting her point blank in the head, forcing her husband to watch her die.
Amnesty International's Afghanistan Researcher Horia Mosadiq said:
"The harrowing accounts we've received paint a picture of a reign of terror during the Taliban's brutal capture of Kunduz this week. 

 

"The multiple credible reports of killings, rapes and other horrors meted out against the city's residents must prompt the Afghan authorities to do more now to protect civilians, in particular in areas where more fighting appears imminent.

 

"Many humanitarian agencies have bravely continued their work in and around Kunduz over the past days. They must be granted access to carry out their life-saving work. With thousands forced from their homes, it is also crucial that all parties agree to a humanitarian corridor that allows civilians to leave the city safely.

 

"Protecting civilians from further onslaught and serious abuses at the hands of the Taliban is of the utmost importance."
Government revenge attacks
As Afghan government forces regain control of Kunduz, Amnesty is calling on them not to retaliate against any captured or injured members of the Taliban. Any Taliban fighters suspected of serious violations of human rights or international humanitarian law must be investigated and prosecuted in fair trials without recourse to the death penalty.
Horia Mosadiq said:
"Breaking the cycle of violence and returning to the rule of law means ensuring that Afghan troops and authorities do not mete out revenge on any prisoners, which would amount to a war crime."