Afghanistan: Escalation in conflict causing 'displacement crisis'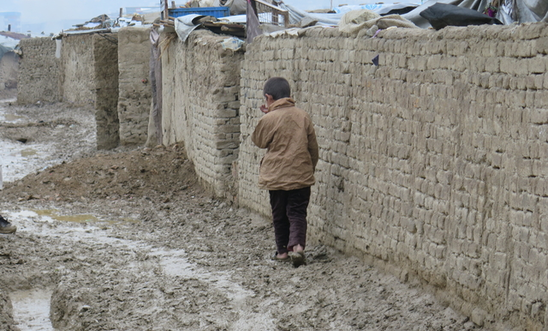 Child at camp for internally displaced people, Kabul
1.2 million internally displaced
Afghan security forces struggling in areas such as Helmand where they have taken over from British troops
Taliban at strongest since 2001, as well as emergence of groups claiming allegiance to ISIS
Afghanistan is facing a "displacement crisis" with the number of Afghans who have fled violence and yet remained trapped in their own country dramatically doubling over the past three years, Amnesty International warned today (31 May) as it issued a new report.
Afghans already form one of the world's largest refugee populations, behind only Syrians, with an estimated 2.6 million Afghan citizens living beyond the country's border. The report finds that there are also a staggering 1.2 million people "internally displaced" in Afghanistan today, a dramatic increase from some 500,000 in 2013.
Recent years have seen an escalation in violence in the country, as international troops – including UK forces -  have left, and the Afghan security forces have fought for control against anti-government groups like the Taliban, who are reportedly at their strongest since their ousting from power in 2001. This has led to large-scaled displacement across the country with people fleeing the intensifying conflict.
Helmand province, said to be the most dangerous in the country, was where the majority of British troops were stationed throughout the 13-year US-led invasion and occupation of the country. Four hundred and 49 British military personnel died in the province during the war. Since Afghan forces took over the battle against the Taliban, they have been steadily losing ground in Helmand, and as the conflict has escalated, more civilians have fled in search of safety.
There have also been growing reports of fighters claiming allegiance to the Islamic State armed group over the past two years. In the eastern province of Nangarhar groups apparently affiliated to ISIS have engaged in clashes with both pro- and anti-government forces in 2015, leading to the displacement of tens of thousands of civilians.
Champa Patel, South Asia Director at Amnesty International, said:
"While the world's attention seems to have moved on from Afghanistan, we risk forgetting the plight of those left behind by the conflict.

"Even after fleeing their homes to seek safety, increasing numbers of Afghans are languishing in appalling conditions in their own country, and fighting for their survival with no end in sight.

"All parties that have been involved in Afghanistan over the past 15 years have a responsibility to come together and make sure that the very people the international community set out to help are not abandoned.

"Afghanistan and the world must act now to end the country's displacement crisis, before it is too late."
Amnesty's research found that despite the promises made by successive Afghan governments, displaced people in Afghanistan lack adequate health care, shelter, food, water and opportunities to pursue education and employment, with most living in dismal conditions.
Mastan, a 50-yearold woman living in a camp in Herat, told Amnesty:
"Even an animal would not live in this hut, but we have to. I would prefer to be in prison rather than in this place, at least in prison I would not have to worry about food and shelter."
Amnesty pointed out that a National "Internally-displaced People" Policy launched by the Afghan government in 2014 has hardly been implemented – stymied by corruption, lack of capacity in the Afghan government and fading international interest.