Adwoa Aboah, Dame Judi Dench, Naomie Harris, Dua Lipa, Gemma Chan and Olivia Colman join thousands in urging the Government to ensure equal protection for all domestic abuse survivors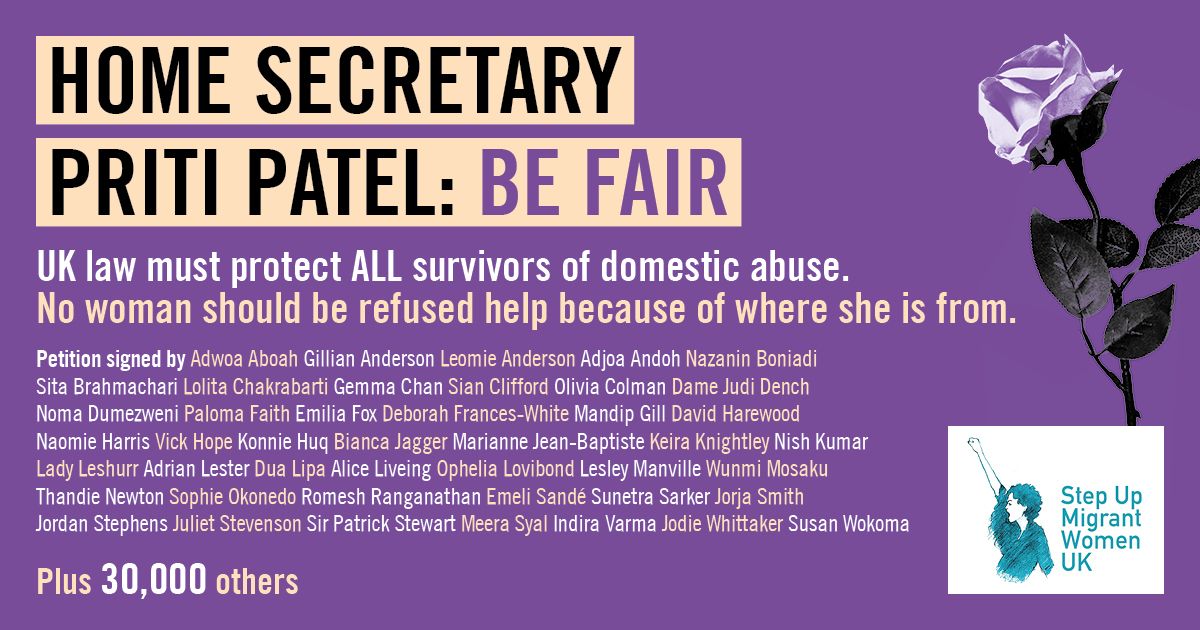 A 30,000-strong petition will be delivered to the Home Secretary today, calling for domestic abuse laws to provide safety for migrant women
MPs voted against amendments that would have provided support to migrant women – the Domestic Abuse Bill will now go to the Lords
Thandie Newton, Keira Knightley, Gillian Anderson, Noma Dumezweni, Jodie Whittaker, Emilia Fox and Emeli Sandé add their names to the call
'It shouldn't matter if you're born in this country or not – all victims deserve the right to seek police help and to have access to refuges' – Actor Gemma Chan
More than 40 high profile celebrities, actors, singers, comedians and artists are backing a Step Up Migrant Women campaign to change domestic abuse laws so that they offer safety to all victims, no matter what their immigration status is or where they are from.
The celebrities - including  Adwoa Aboah, Dame Judi Dench, Naomie Harris, Dua Lipa, Gemma Chan, Olivia Colman, Thandie Newton, Keira Knightley, Gillian Anderson, Noma Dumezweni, Jodie Whittaker, Emilia Fox and Emeli Sandé - join tens of thousands of people urging the Home Secretary Priti Patel to ensure the forthcoming Domestic Abuse Bill is fair and introduces a system of equal protection for all victims of abuse. Currently the Bill leaves migrant women trapped in dangerous relationships and often blocked from vital support services, such as refuges and the police.
Leomie Anderson, Adjoa Andoh, Nazanin Boniadi, Sita Brahmachari, Lolita Chakrabarti, Sian Clifford, Paloma Faith, Deborah Frances-White, Mandip Gill, David Harewood, Vick Hope, Konnie Huq, Bianca Jagger, Marianne Jean-Baptiste, Nish Kumar, Lady Leshurr, Adrian Lester, Alice Liveing, Ophelia Lovibond, Lesley Manville, Wunmi Mosaku, Sophie Okonedo, Romesh Ranganathan, Sunetra Sarker, Jorja Smith, Jordan Stephens, Juliet Stevenson, Sir Patrick Stewart, Meera Syal, Indira Varma and Susan Wokoma have also added their names to the petition and supported the call.
The Step Up Migrant Women petition - which has more than 30,000 signatories* - will be delivered to the Home Secretary Priti Patel today, with a call to the Government to accept amendments that will be proposed in the Lords in the Autumn. Earlier this month, MPs voted against amendments that would have given additional support to migrant women. The Lords is an opportunity for these vital amendments to be re-tabled.
Actor Gemma Chan said:
"Too many women are left trapped in abusive relationships and unsafe situations because they can't access the support they need. It shouldn't matter if you're born in this country or not – all victims deserve the right to seek police help and to have access to refuges. I hope the Government does the right thing and changes the law so that all domestic abuse victims are provided protection without discrimination."
Singer-songwriter Emeli Sandé said:
"One in 4 women experience domestic abuse in England & Wales. Every woman who is trapped in this devastating struggle of fear, pain and humiliation deserves support and the chance of safety. It's heart-breaking that there are women in this situation with insecure immigration status who have almost nowhere to go for help. The Government must update the Domestic Abuse Bill so that it protects all women, no matter where they're from."
Singer-songwriter Dua Lipa said:
"Migrant women survivors of domestic abuse should be treated the same as all other women who go through this nightmare experience. The fact that they're blocked from life-saving services and safety is an injustice that we can't be silent about."
Actor Noma Dumezweni said:
"It's clearly not fair that some women are provided with places to sleep and safety when they've experienced domestic abuse, and others are not. This is another system that discriminates against migrants and people of the Global Majority. All domestic abuse victims deserve to be safe."
Migrant women blocked from safety
The current system blocks women with insecure immigration status from vital support – they only have access to 5.8% of refuge beds. Migrant women can also be turned away when seeking help from the police, and sometimes, instead of receiving protection, they are referred to the Home Office. This means they are often too scared to report abuse for fear of being detained, deported or losing their children as a result.
The Step Up Migrant Women coalition - a coalition of more than 50 migrant and BAME frontline services and human rights organisations, including the Latin American Women's Rights Service, Southall Black Sisters and Amnesty International UK - is calling on the Government to amend the Bill so that it does not discriminate against victims and offers all women safety and protection.
The Step Up Migrant Woman coalition are seeking four things in the Bill:
Inclusion of a clause explicitly stating that protection must be provided without discrimination on the basis of migrant status;

Guarantee that women who report to the police or other services will be treated as victims and will not face immigration enforcement such as detention or deportation as a result;

Provision to ensure migrant victims of abuse can apply to regularise their immigration status independent from their abuser, and can access public funds while the application is considered (the latter is necessary to gain access to refuges);

Provision to ensure all victims of domestic abuse can access public funds and vital support and routes to safety; and that no survivor - whatever her immigration status - is treated as being in breach of her leave conditions for accessing those funds.
Gisela Valle, Director of the Latin American Women's Rights Service, said:
"We welcome the reforms introduced by the Domestic Abuse Bill to better protect survivors of this heinous crime.  However, none of these provisions will have any effect on migrant survivors when their immigration status bars them from accessing essential statutory services such as the police,  healthcare and even refuge beds as a result of the no recourse to public funds policy.  In order to be truly transformative, the Bill needs to include provisions for migrant women to have equal access to the services that will allow them to escape violence and rebuild their lives."
Pragna Patel, Director of Southall Black Sisters, said:
"The Domestic Abuse Bill has been lauded as a 'once in a generation opportunity' to ensure protection for domestic abuse victims. Yet migrant women continue to be left out of the protection. If we are to learn the lessons from the Windrush Scandal, Covid-19 and the Black Lives Matter movement then surely it is the need to ensure that we do not persist in policies and laws that create growing racial and economic inequalities. Why are some women deemed to be more deserving of protection than others?  This Bill is an opportunity for government to do things differently and in doing so champion the cause of justice and equality for all and not the few."
Kate Allen, Director of Amnesty International UK, said:
"It's hugely concerning that MPs didn't vote through amendments to the Bill that would have simply provided migrant victims with a level playing-field when seeking safety, but the Lords provides a second chance for these vital provisions to be voted through. There is overwhelming support for domestic abuse laws to be updated so that migrant women aren't left behind. All victims should be treated equally – it shouldn't be safety for some and not for others."
*The number of signatories are online and offline combined.