Actress-singer Bronagh Gallagher in marriage equality call for Northern Ireland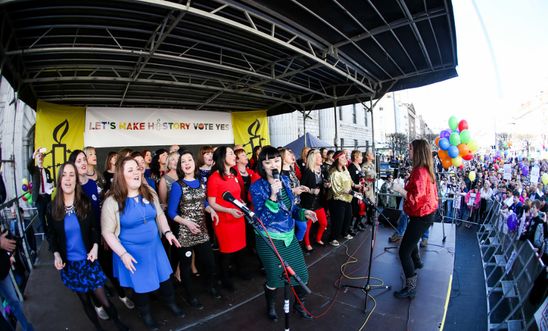 Bronagh Gallagher singing at Amnesty's marriage equality rally in Dublin, March 2015
Singer to perform at Belfast marriage equality rally on Saturday
'I was a big supporter of the Yes campaign in the Republic and now I want to see that joy spread to Northern Ireland' – Bronagh Gallagher
Singer and actress Bronagh Gallagher has called for civil marriage for same sex couples to be introduced in Northern Ireland.
The Derry-born performer made the call as it was announced that she is to perform at a rally for marriage equality in Belfast on Saturday. Bronagh Gallagher will be supported on stage by QUIRE, a 30-strong choir of LGBT singers.
The rally, in front of Belfast City Hall, will follow a march through the city being organised by Amnesty International, the Irish Congress of Trade Unions and the Rainbow Project.
The Northern Ireland actress and singer shot to prominence in the film The Commitments over 20 years ago. She has gone on to star in dozens of roles on stage and screen including major movies such as Pulp Fiction, Star Wars: The Phantom Menace and Sherlock Holmes, and has recorded several albums and continues to gig regularly.
Bronagh Gallagher, said she was looking forward to performing at the Belfast marriage equality rally:
"I was a big supporter of the Yes campaign in the Republic and now I want to see that joy spread to Northern Ireland.
"For me, this is dead simple. I think everyone is equal and the law should treat them as equal. No more and no less than that. The right to be treated equally by your government - including by being able to get married - is a matter of fundamental human rights.
"Gay people in Northern Ireland are not second class citizens and should not be treated as such by their government. Everyone should have the right to have their love recognised as equal before the law.
"I can't wait to perform at the rally. I am working in London at the minute, but I'm flying into Belfast especially to sing for equality. It's even better knowing that I will be performing with QUIRE, Belfast's brilliant LGBT choir. I could hardly have a more appropriate backing group for the occasion!
"If the atmosphere in Belfast is anything like it was in Dublin during the Yes campaign, then Saturday is going to be electric. My message to the politicians is: join us!"
March organisers Amnesty International, the Irish Congress of Trade Unions and the Rainbow Project, are asking marchers to assemble outside the Belfast campus of Ulster University from 2:30pm before marching to Belfast City Hall for a rally.