200,000 people call for release of Uzbekistani prisoner of conscience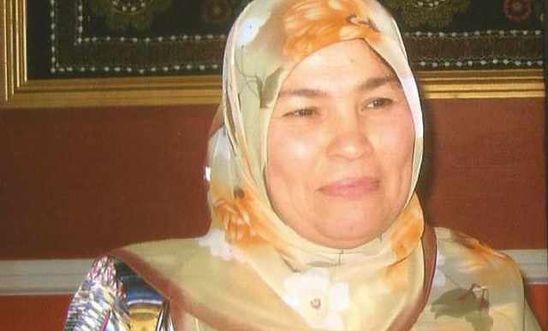 The 49-year-old mother-of-four is serving a total of 18 years in jail © Third party
Uzbekistan embassy in London has previously secretly filmed Amnesty staff raising Dilorom Abdukadirova's case
Almost 200,000 people have signed a petition to the president of Uzbekistan Islam Karimov calling on him to immediately and unconditionally release Dilorom Abdukadirova, a 49-year-old mother-of-four imprisoned since 2010 for taking part in a protest for better economic conditions in the Central Asian country.
Abdukadirova, a vegetable seller, originally fled Uzbekistan in 2005 following protests in the city of Andizhan where the security forces opened fire and killed hundreds of mostly unarmed demonstrators. She was arrested in 2010 when she returned to Uzbekistan after five years in exile to be reunited with her family.
After an unfair trial she was sentenced to ten years in prison on charges of attempting to overthrow the constitutional order, and in 2012 her sentence was extended for an additional eight years for allegedly breaking prison rules. Family members reported that Abdukadirova appeared emaciated at her trial in April 2010 and had bruises on her face. Amnesty is concerned that despite credible allegations that she was subjected to torture and other ill-treatment, to date no investigation has been carried out into the allegations and no perpetrators have been identified or brought to justice. Amnesty has named her a prisoner of conscience.
Signatures on the new petition - which is part of Amnesty's Stop Torture campaign - were collected in 123 countries. When Amnesty attempted to raise Abdukadirova's case at the Uzbekistan embassy in London earlier this year officials refused to open the door to Amnesty and instead secretly filmed Amnesty staff from an upstairs window of the embassy. 
Amnesty International Uzbekistan Researcher Maisy Weicherding said:
 

"Torture in Uzbekistan is pervasive and routine. 

 

"The government keeps lying about this practice, instead of taking effective steps to prevent it. This must not be allowed to continue.

 

"The international community and the European Union in particular must address pervasive and routine torture in Uzbekistan as part of all their bilateral relations."
Systemic torture in a closed country
Amnesty receives regular reports that people in Uzbekistan are tortured and ill-treated by the security forces following arrest and suffer similar treatment at the hands of prison guards in detention facilities, with the authorities routinely failing to conduct effective investigations into such allegations. Uzbekistan remains closed to effective international scrutiny and in recent years no independent international organisations, Amnesty included, have been granted unimpeded access to the country to carry out independent human rights monitoring. 
Other cases of concern
Amnesty is also calling for an investigation into allegations of torture in custody of four other prisoners in Uzbekistan:
Azam Farmonov, a prisoner of conscience and a member of the independent Human Rights Society of Uzbekistan, is serving a nine-year prison sentence. He was arrested in 2006 and charged with extortion following an unfair trial. On several occasions Farmonov's family reported that he had been tortured and subjected to other ill-treatment in prison.
Erkin Musaev, a former Ministry of Defence official, is serving a 20-year prison sentence for treason and abuse of office following three separate unfair trials in 2006 and 2007. Muaev was working for the UN Development Programme in Uzbekistan when he was detained in January 2006. His family claim that he was tortured to force him to confess.
Murad Dzhuraev, a former member of parliament of Uzbekistan, is detained on politically-motivated charges after receiving an unfair trial. Before his trial, supporters claimed that Dzhuraev had been tortured in pre-trial detention by police officers to force him to confess. He is being held in cruel, inhuman and degrading conditions, and his health is seriously deteriorating. 
Muhammad Bekzhanov, the-editor-in-chief of the banned Erk political opposition party newspaper, is in jail after being given a 15-year jail sentence in a 1999 trial which fell far short of international standards. During his trial he issued a statement alleging that he had been tortured in pre-trial detention in order to force him to confess to fabricated charges. Bekzhanov was due to have been released in February 2012 but the court sentenced him to another four years and eight months for allegedly violating prison rules. His family have said that his health has declined sharply in recent years and that he is not receiving necessary medical attention.