1,000 artists to perform in 'living room' shows in 60 countries today, in solidarity with refugees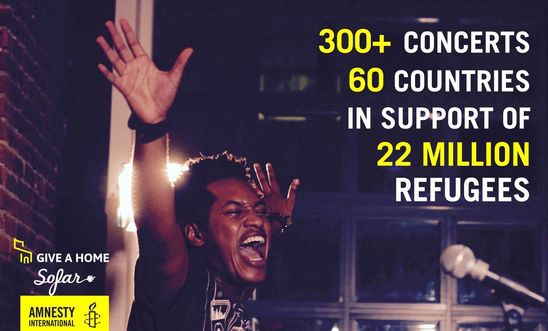 After months of anticipation, Give a Home for Human Rights takes place today. The global refugee concert series created by Amnesty International and Sofar Sounds will see 1000 artists perform 300 unique living room shows across 60 countries. Sets from Emeli Sande, Jessie Ware, Tom Odell and Rudimental will also be streamed via Facebook Live on their respective pages, as well as by Sofar Sounds. MCs at London gigs include Reggie Yates, Maya Jama, Sam Roddick and Gemma Cairney. Head to www.sofarsounds.com/giveahome to find out more.
Give a Home brings together some of the world's most recognised musicians, refugee artists and activists with refugees and local communities, with the money raised going to support Amnesty's work to protect human rights around the world. The one of a kind event comes as the global refugee population exceeds 22 million – the worst refugee crisis since the Second World War – with people forced to flee conflict and persecution across the world.
However, despite the numbers the international community's response has, for the most part, been completely inadequate. With a few notable exceptions, governments have demonstrated what Amnesty has termed a "shocking failure of leadership", building walls and fences and introducing policies to keep refugees out, rather than working to share responsibility for hosting and assisting refugees, and to address the root causes of the crisis.
Kate Allen, Director of Amnesty UK, said:
"We are delighted that so many fantastic musicians signed up to Give a Home and that so many people around the world are opening their doors to host these gigs in solidarity with refugees. Governments have displayed a shocking failure of leadership over the refugee crisis, but ordinary people in communities across the world have been going out of their way to welcome refugees. Everyone performing, hosting or attending one of these gigs will be part of this movement for a better response to the crisis, in the UK and around the globe."
Give a Home for Human Rights
The concert series is a collaboration between Amnesty International, the world's largest human rights organisation, and Sofar Sounds, a London-based company that specialises in arranging secret concerts in people's homes around the world. Sofar Sounds have previously hosted shows in venues ranging from back gardens in Cape Town to greenhouses in Tokyo.
Tackling the global refugee crisis and 'I Welcome'
The refugee crisis affects the lives of more than 22 million people worldwide. Almost all are hosted outside the wealthiest nations, and currently just ten of the world's 193 countries host more than half its refugees.
Give a Home For Human Rights is part of Amnesty's 'I Welcome' campaign, which calls for a better international response to the global refugee crisis through governments sharing responsibility for hosting and assisting refugees.The campaign also aims to build grassroots solidarity with refugees, and create more welcoming communities across the UK for those fleeing conflict and persecution.
Sofar Sounds
Sofar Sounds is a global, grassroots network of artists, hosts and guests, all with the goal of helping to bring the magic back to live music. We curate secret, intimate gigs in unique spaces, from living rooms and churches to hoodie shops and fancy furniture showrooms. We aim to create performance spaces that are respectful to artists, where the audience lives in the moment and listens closely to the music.
We started as a hobby in London back in 2009, became a business a few years ago, and have grown into a global community of music lovers, supporting thousands of artists around the world, putting on hundreds of gigs every month across hundreds of cities.