"Homophobia a problem for Northern Ireland": says Belfast-bound Panti Bliss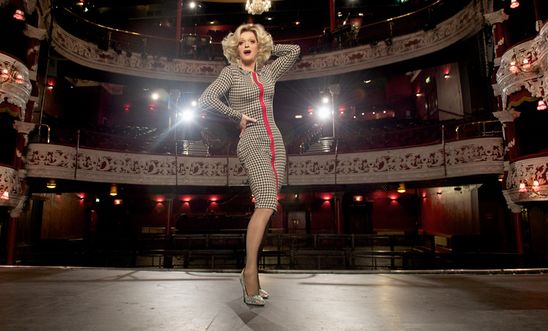 Campaigning drag queen heads for Belfast to deliver Amnesty International Pride lecture
Northern Ireland still has a problem with homophobia – that's the verdict of controversial Dublin drag queen Panti Bliss, as she prepares to come to Belfast to deliver Amnesty International's annual Pride Lecture.
"I have been coming to Northern Ireland for years. It's a great place and a place transformed for the gay community over recent years. But there is still a long way to go", says Panti Bliss, the drag persona of Rory O'Neill, who earlier this year took to the stage of Dublin's Abbey Theatre to highlight homophobia in Ireland.
"When politicians block equal marriage rights for same-sex couples and when research shows that a quarter of people don't want a gay person as a neighbour or work colleague – then that place clearly has a problem with homophobia.
"With England, Wales, Scotland and – hopefully – the Republic of Ireland, embracing equal marriage for same-sex couples, I know that my gay friends in Northern Ireland are afraid that it will yet again be left behind."
With her Noble Call speech, delivered from the stage of Dublin's Abbey Theatre, Panti's rallying call against homophobia went viral, attracting over half a million YouTube views. Fintan O'Toole of the Irish Times called it "the most eloquent Irish speech since Daniel O'Connell". 
Patrick Corrigan, Northern Ireland Programme Director of Amnesty International, said:
"Panti Bliss has become an accidental activist for equality, but she is now one of Ireland's most articulate advocates against the discrimination and persecution faced by LGBTI people around the world. Most people in Northern Ireland are against homophobia and for equal marriage rights for same-sex couples - it's time for our politicians to catch up with their voters."
The Amnesty International Pride Lecture will take place at Belfast's MAC theatre on Thursday 31 July at 7:45pm. The event is a sell-out.
The Amnesty Pride Lecture is an annual event. Last year the lecture was delivered by House of Commons Speaker, John Bercow MP.
The Belfast Pride parade – Ireland's largest - will take place this Saturday 2 August.