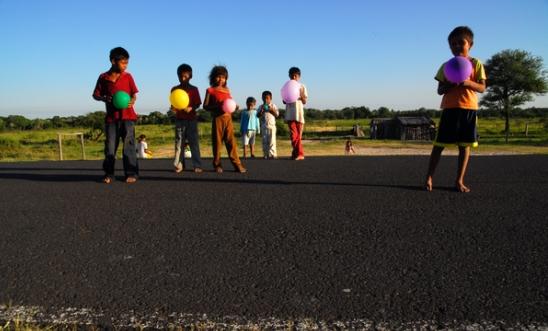 Sawhoyamaxa children on the main road that passes through their temporary homes. © Amnesty International
For more than two decades the Sawhoyamaxa people have been camping on the side of the highway because their ancestral lands were in the hands of private owners. Access to basic services – education, health and food – has been nearly impossible for the families.
After a 20-year battle, the indigenous Sawhoyamaxa community have finally won rights to their land. On 11 June 2014, the President of Paraguay enacted a law allowing the return of more than 55 square miles of land in the Chaco region.
'Indigenous people only cry when they achieve their freedom. And today feels as if we have just been liberated from prison. For this reason, so many of us began to cry of emotion.'
Carlos Marecos, Leader of the Sawhoyamaxa Community
Never give up
The road to victory has not been easy for the Sawhoyamaxa. In 2006, the Inter-American Court of Human Rights ordered Paraguay to return the ancestral land to the indigenous community.
The Court found that their rights to judicial protection, right to property and right to life had been violated. However, the Paraguayan state failed to meet the three-year deadline to return the traditional land to the community.
In 2009, we joined the Sawhoyamaxa's campaign to help them regain what is rightfully theirs, and in March 2012 the community reoccupied part of their land, refusing to wait any longer.
Now, five years after the deadline and twenty years since the battle began, the judgement has finally been enacted and the owner compensated. Thanks to strength of the Sawhoyamaxa people and your support for their fight, this community can finally return home.