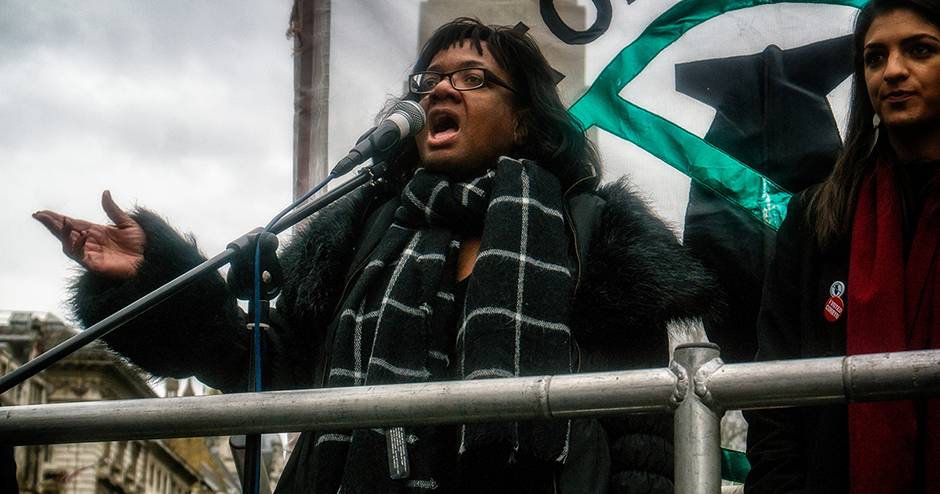 Women in politics face an extraordinary amount of abuse on social media, partly just because they speak up, but also simply because they are women. This is a worrying human rights issue as it stops them from freely entering political discussions.
That's why we decided to investigate the extent of online abuse against women MPs. We analysed tweets mentioning 177 women MPs active on Twitter in the run up to the 2017 general election.
We found that this issue affects Black, Asian and Minority Ethnic (BAME) women MPs far more than their white colleagues. The 20 BAME MPs received almost half (41%) of the abusive tweets, despite there being almost eight times as many white MPs in the study.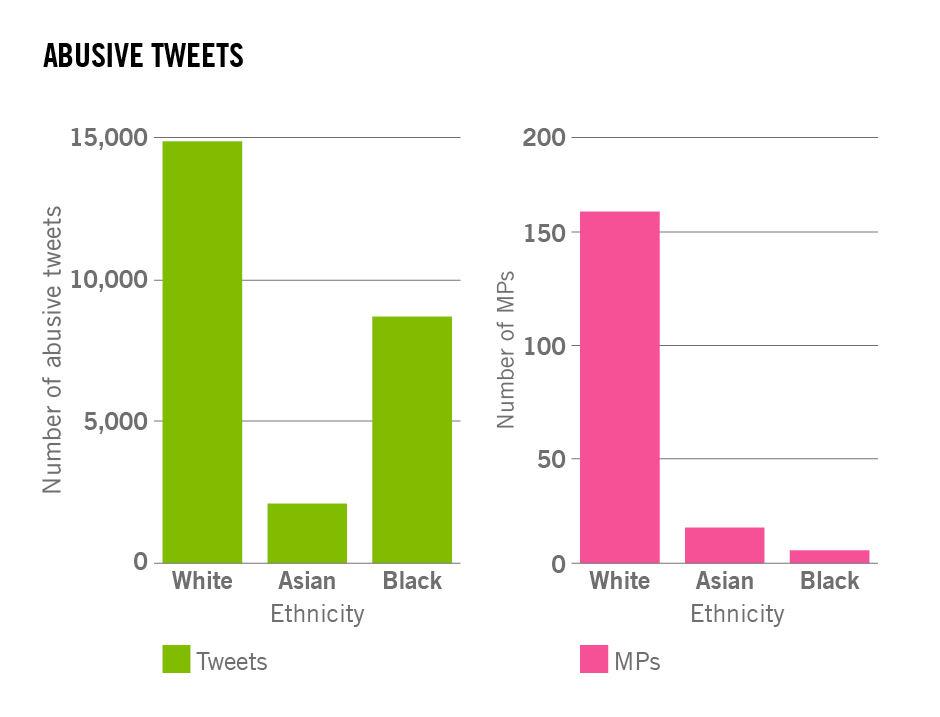 Diane Abbott faces the most abuse
Diane Abbott is the UK's first black female MP and currently Labour MP for Hackney North and Stoke Newington, as well as Shadow Home Secretary.
She receives an incredibly disproportionate amount of abuse and was the target of almost a third (31.61%) of all abusive tweets we analysed. She received even more abuse in the six weeks leading up to 2017's snap general election, when 45.14% of abusive tweets were aimed at her.
This amounts to an average 51 abusive tweets per day over the 158 day study.
The type of abuse she receives often focuses on her gender and race, and includes threats of sexual violence.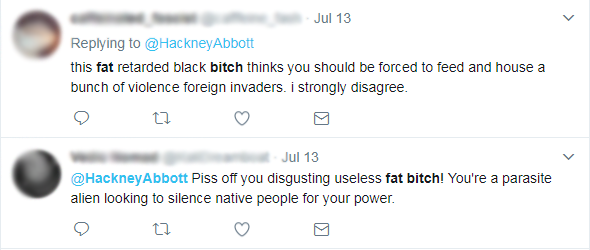 Here she shares her experience. Warning: this video contains content some viewers may find offensive.
Diane Abbott: The most abused female MP online from Amnesty International on Vimeo.
This chart shows how the amount of abuse Diane Abbott MP receives compares with the other top five most abused women MPs.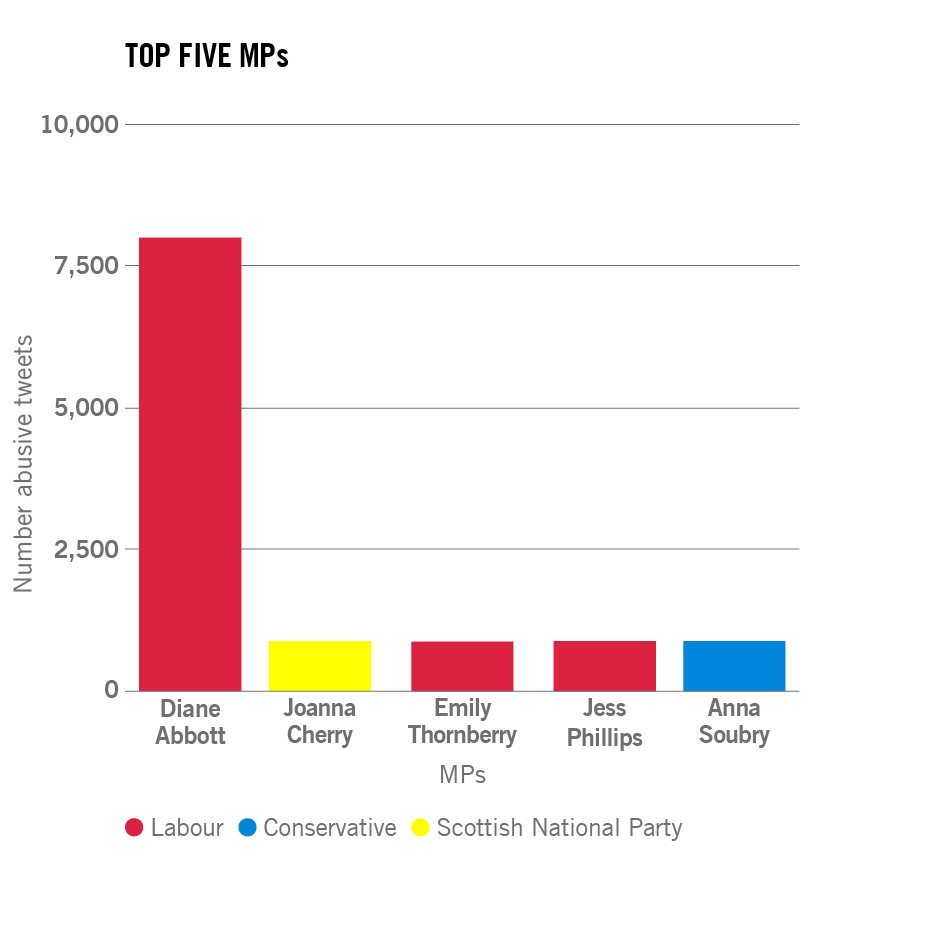 Although tweets to Diane Abbott MP dramatically skew the overall results, with her tweets removed the other 19 BAME women MPs still received 35% more abusive tweets than their white colleagues.
The disproportionate amount of online abuse faced by BAME women MPs reflects a wider trend of 'intersectional discrimination' — i.e. that which targets an individual on the basis of their different identities, such as their race, gender, class, sexual orientation, etc.
Does political party make a difference?
Although the levels of abuse may vary across the political parties and individuals, our findings show that no political party is immune to online abuse against women MPs.
Out of the top five most abused women MPs three are Labour with one SNP and one Conservative.
As Diane Abbott MP skews the results, with her included Labour received by far the most abusive tweets per MP — 75% of the total. However, if excluded, the SNP received the most abuse, with their women MPs receiving almost half of all the abusive tweets in our study.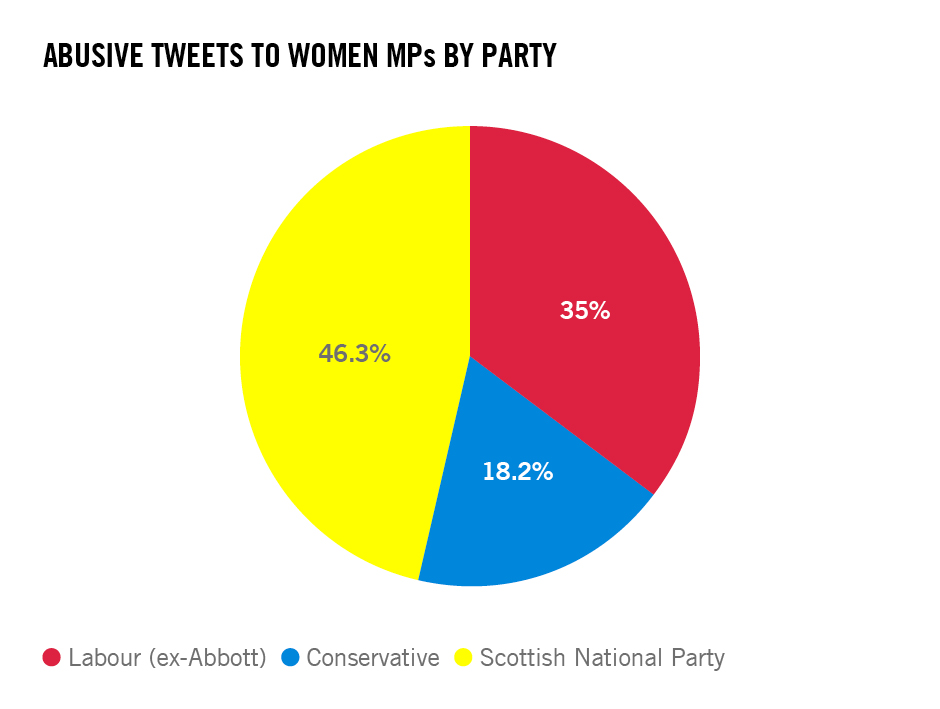 Online abuse is a human rights issue
Some forms of online abuse are part of the larger phenomena of violence against women.
Online violence can be just as severe as experiences of violence offline. It may affect women's human rights to safety, freedom of expression, participation in public life, and may also cause severe psychological harm, among other things.
Governments and social media companies like Twitter have a responsibility to prevent, investigate and punish all acts of violence against women online, and to ensure that women using these social media platforms are able to express themselves freely and without fear.
How we got this data
We collected a sample of all tweets mentioning the 177 women MPs in the study between 1 January and 8 June 2017.
We removed duplicates and ended up with around one million unique tweets.
We then had a data scientist create a tool to analyse each tweet and label it as abusive or non-abusive.
To increase accuracy, Amnesty staff reviewed a sample of the tweets labelled as abusive to better train the tool to learn and recognise what abusive tweets look like. We estimate our results are about 64% accurate.