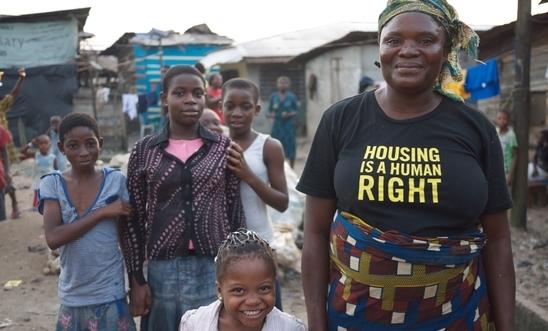 The Bundu Ama community, an informal settlement in Port Harcourt, Nigeria. © Amnesty International
No one knows exactly how many people died at the hands of the Nigerian security forces when they opened fire on a crowd of peaceful protesters on 12 October 2009. At least one person died, but eyewitnesses told us of a pile of bodies being carted off in the back of a truck.
For five years, Nigerian authorities have refused to investigate the shooting at Port Harcourt.
Finally, after years of battling, a regional human rights court ruled that the Nigerian security forces committed human rights abuses.
On 10 June 2014, the court ruled that the Nigerian government breached its obligation to respect the right to peaceful association and assembly and had no justification for the shootings. 
The decision marks a triumph for the protesters who were peacefully demonstrating against the demolition of their homes in the Bundu Ama community of Port Harcourt.
'Our community refused to lie down and become victims but instead took action and have now beaten the government in court.'
Joy Williams, 17 years old when she was shot in the leg during the incident.
They have been awarded a total of 11 million Nigerian Naira – nearly $70,000 USD - in damages.
Housing is a human right
Bundu Ama is one of more than 40 waterfront settlements in Port Harcourt, which make up some of the city's most densely populated areas and are home to more than 200,000 people.
Bundu Ama hasn't been demolished, but the Nigerian authorities have forced thousands of people from their homes and demolished other waterfront communities as part of their urban renewal programme.
Forced evictions are a serious human rights problem in Nigeria. Since 2000, more than two million people have been forcibly and illegally evicted from their homes by local authorities in different parts of the country – thousands more continue to be at risk.
Such evictions generally target marginalised people and slum dwellers, many of whom have lived for years without access to clean water, sanitation, adequate health care or education.
Nigeria must now make sure justice is served
We are calling on the Nigerian government to fully implement the Bundu Ama judgment in a comprehensive and timely way and not ignore the ruling as they have done repeatedly in other cases.
We also want:
the Nigerian army and police force to end the use of excessive force and the repeal regulations which are not in line with international standards, such as Police Force Order, which permits police officers to shoot protesters, whether or not they pose a threat to life.
an immediate end to mass forced evictions in Nigeria and the enactment of legal safeguards to protect people from forced eviction.