Babies among 149 dead in Nigerian detention centre that should have been closed long ago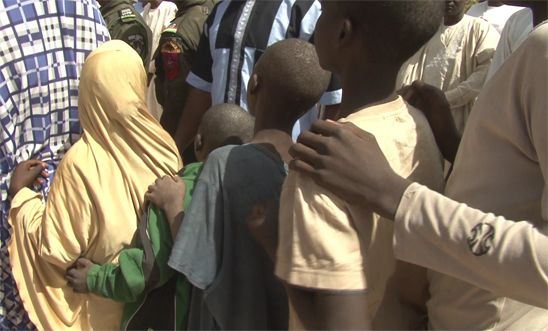 Children detained at Giwa barracks in a queue during their release ceremony, February 2016 © Kolawole Israel
No one can confirm exactly how they died: their deaths have not been investigated, no autopsies conducted by the authorities under whose watch they perished. But their deaths appear to have been preventable.
Appalling conditions in the jail at the Giwa barracks in Maiduguri, Northern Nigeria, have led to the deaths of at least 149 people this year, including children and babies.
At least 12 children have died there since February. In March alone, 65 people died in the barracks. Disease, hunger, dehydration, gunshot wounds are the likely causes, but without proper investigation, we can't be sure.
What is clear is that the military detention centre where they died, Giwa barracks, needs to be shut down immediately – before more people die needlessly from squalor and mistreatment.
Read our research report: Life and death in Giwa barracks (PDF)
Arrested without reason
Many of Giwa's detainees were rounded up in arbitrary mass arrests in an attempt by the military to crack down on armed group Boko Haram. This is illegal and the unfounded arrests completely outside of any judicial system.
The military has conducted several mass arrests of hundreds of young men and boysin Borno state, northern Nigeria, this year. Young men who had spent time in camps for displaced people or who had been in certain towns have been rounded up and treated as criminals purely based on their age and location.
Once inside Giwa barracks, detainees have been denied all access to the outside world or trial proceedings.
Detained as a child
Around ten per cent of Giwa's estimated 1,200 detaines are children.
Children under five years old, including babies, have been held in three overcrowded women's cells. Unsanitary conditions mean that disease is rife.
In the last year there has been a ten-fold increase in the number of detainees in these cells, rising from 25 last year to 250 in early 2016. At the minute, we understand that there are around 20 babies and children under five in three cells.
The fact that there are young children and babies detained in Giwa barracks is no secret - the army has been upfront about their detention.
'It is hunger and thirst and the heat - these are the main problems.'
Boy detained in Giwa, 2016
Boys over five, arrested alone or with their parents, have been held in a single cell, and as with all detainees at the barracks have been denied access to their families and held incommunicado. Two boys detained in the boys' cell told us they weren't allowed out of the cell except to be counted by soldiers.
One witness told us they saw the bodies of eight dead children - including a five-month-old, two one-year-olds, a two-year-old, a three-year-old, a four-year-old and two five-year-olds. Two former detainees reported that two boys and a girl, aged between one and two, died in February.
Bodies disposed of by rubbish trucks
A former detainee told us: "In the morning they open the cell and take the urine and stool [buckets] outside. Next the coffin [corpses] will be taken outside." Bodies of the Giwa dead have were taken to a mortuary in Maiduguri and from there Borno State Environmental Protection Agency (BOSEPA) personnel have taken them in rubbish trucks for burial in unmarked mass graves in Gwange cemetery. One witness told Amnesty that since November a BOSEPA rubbish truck has visited the cemetery two or three times a week, where staff bury the bodies separate from the public area of the cemetery. Photos taken inside the cemetery show recently-dug graves in the area visited by the BOSEPA workers, whiles satellite images taken on November and March show disturbed earth in this location.
Horror of the men's cells
According to witness testimony, conditions are worst in the men's cells and at least 136 men have died in detention in Giwa so far in 2016, including 28 men who appeared to have gunshot wounds. One 38-year-old man who recently spent four months in Giwa told Amnesty that inmates received about half a litre of water per day and "There is a small plastic bowl for food. People use it for small children. It is just that for each meal." Another man, recently released after five months in the barracks, told Amnesty: "There is no mat inside so you sleep on the floor. It is very congested. You can lie down, but only on your side and you cannot turn from one side to the other."
Disease and overcrowding rife
Detainees have no washing facilities, their cells are rarely cleaned and disease is rife. Another former inmate said: "No-one has a shirt so you can count the ribs of their body. There is no cleaning, so you live in disease. It is like a toilet. Me and my brother were sick inside the cell. Diarrhoea was common." Despite steps to improve conditions in Giwa in 2014 and 2015 - with detainees receiving food three times a day as well as blankets, sleeping mats and increased access to sanitary facilities and medical assistance - recent mass arrests appear to have erased some of these gains and death rates are increasing.
Nigerian authorities failing to act despite longstanding concerns
Concerns about conditions in Giwa barracks and other military detention facilities have been raised since 2013. Last June, an Amnesty report revealed that 7,000 detainees had died in military detention in Nigeria since 2011 as a result of starvation, thirst, disease, torture and a lack of medical attention. The report revealed that in 2013, more than 4,700 bodies were brought to a mortuary from Giwa barracks. In February 2016, the Chief of Army Staff told Amnesty that conditions in military detention were significantly better than documented in Amnesty's report. He stated that Giwa barracks and other military detention facilities in the north-east are "holding centres" and suspects are rapidly transferred to a detention facility outside the north-east.
We wrote to the Chief of Army Staff on 12 April, requesting a response to its latest evidence and further information on deaths in detention. On 20 April the Chief of Army Staff replied, directing us to the office of Nigeria's Attorney General, while providing no response to evidence raised in the letter. We wrote to the Attorney General and Chief of Defence Staff on 27 April; no response has been received to date.
Downloads