London to Brighton Challenge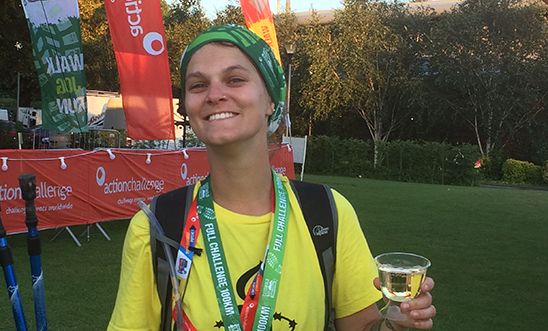 Test your grit and take on this classic capital to coast route over the Bank Holiday weekend. Most will Walk, but many will Jog or Run the full 100km, and with 25km, 50km and 75km distance options there's a wide range of challenge options!
A Richmond start by the Thames - then the North Downs and wonderful Surrey & Sussex countryside to the halfway point at Turners Hill. The 100km route heads up and over the South Downs before the welcome sight of the Brighton coastline comes in to view.
So sign up today, either as an individual or in a team and prepare for a beautiful experience that you'll never forget! 
Sign up to the London to Brighton Challenge Charity Sponsorship Option
(To see the different sign up options available, see below, or click here)
Vital Info:
Date: 25 - 26 May 2024
Distance: Choose from 25km, 50km, 75km or 100km
Location: London – Turners Hill - Brighton
Minimum age: 14+ with an adult (25km), 18 (50km, 75km or 100km)
Registration fee / minimum fundraising target (charity sponsorship option):
25km: £20 / £240
50km: £30 / £360
75km: £35 / £450
100km: £40 / £575
Fundraising Options
Charity Sponsorship (detailed above) – low registration fee supplemented by your fundraising efforts, charity charged for the place – Sign up to the London to Brighton Challenge Charity Sponsorship Option
Mixed Funding – lower fundraising target and you pay half the event cost (chosen charity pays other half) – Sign up to the London to Brighton Challenge Mixed Funding Option
Own Place Charity Fundraising – you pay for your place and fundraise whatever you want with no targets, deadlines or cost to the charity – Sign up to the London to Brighton Challenge Self Funding Option
What you'll get
Take on the Challenge with Team Amnesty and we'll give you: 
Fundraising pack with tons of ideas to help you reach your target
Team Amnesty t-shirt to train in and wear on the day
Amnesty materials on request
Support from the friendly community fundraising team 
Rest stops with free food & drink
2 Day Full 'Daylight' option 
Fully signed route
Medics, massage, and pace walkers
Medal, T shirt and a glass of bubbly
Camping options available
Training guides & apps to help you prepare
Please note these events are organised by Action Challenge. Participants raising funds for Amnesty International UK will be joined by others, raising money for different charities.
Got any questions?
Find out more on the Action Challenge website or get in touch:
Email - team@amnesty.org.uk 
Call – 07771 888825