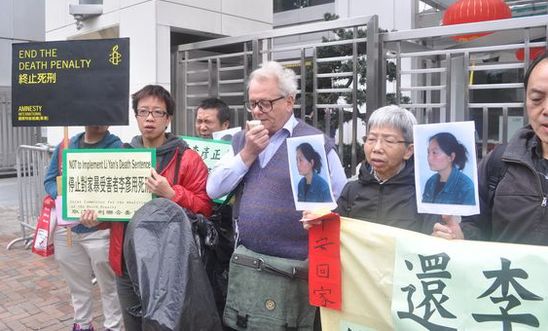 AI Hong Kong solidarity action for Li Yan outside the Liaison Office of China, 8 February 2013 © Amnesty International
In a landmark decision the Supreme Court in China has overturned the death sentence of Li Yan for the murder of her violent husband after enduring months of domestic abuse.
Li Yan, from Sichuan province in Southwest China, was sentenced to death in August 2011 for the murder of her husband Tan Yong, in late 2010. She was facing imminent execution after previous appeals had failed.
Li Dehuai, Li Yan's brother, received news that earlier in May the Supreme Court had sent the case back to the Sichuan Provincial High People's Court for a retrial.
The court's decision is a rare reversal on the back of intense pressure internationally and within China to commute Li's sentence. We highlighted Li Yan's case as an Urgent Action and our SMS Action Network sent 11,011 messages to the Chinese authorities urging them not to implement her death sentence.
Thank you to everyone who took action and stood up for Li Yan.
Chinese authorities need to do more to prevent violence against women
Li Yan's case, whose repeated calls to the police for protection were ignored, highlights the urgent need for the Chinese authorities to do more to prevent violence against women and support survivors of domestic violence.
China's record on preventing violence against women is due to be reviewed by a UN panel later this year. The last review, in 2006, criticised China for the lack of comprehensive national legislation to address violence against women.
'Justice was never going to be served by executing Li Yan. The decision by the Supreme Court to overturn her death sentence is significant and the right course of action.

Li's case has shone a spotlight on the need for the Chinese authorities to do more to prevent violence against women. They are obliged to properly investigate all such claims of abuse and prosecute those responsible. Had the authorities protected Li, as they are required to under international law, this tragic outcome could have been avoided.

Any retrial must fully consider the evidence of the sustained abuse Li suffered, which was overlooked during the first trial. The Court must not impose the death sentence this time.'
William Nee, China Researcher at Amnesty International
Months of abuse
The prolonged violence Li Yan suffered at the hands of her husband began soon after the couple married in early 2009.  Tan Yong frequently beat his wife.  He stubbed out cigarettes on her face. He locked her, near-naked, on the balcony of their apartment for hours at a time during the freezing Sichuan winter.  On one occasion, he cut off her finger.
We do not condone Li Yan's actions, but we do believe that this tragic outcome could have been avoided. Li Yan was hospitalised as a result of the abuse. She sought protection from the police several times and on one occasion they even photographed her injuries. Yet none of the authorities with a duty to protect her followed up on her complaints, launched an investigation into her husband's crimes or offered her any support. 
Unsurprisingly the violence continued.
In late 2010, isolated, afraid and denied protection by the authorities, Li Yan resorted to violence and beat her husband to death with a gun.
Read Li Dehuai story about his sister Li Yan - My sister, on death row for fighting back.