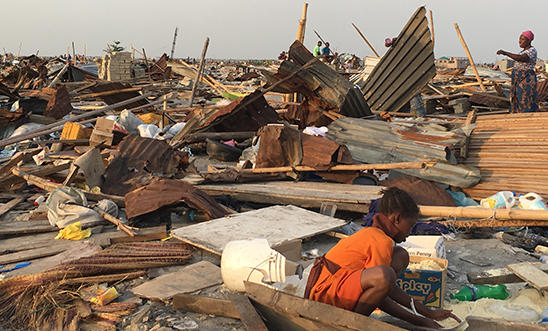 © Justice & Empowerment Initiatives
With a population of 23.3 million that grows by 3.2% a year, the Nigerian capital of Lagos has been struggling for some time. Two-thirds of residents in this megacity live below the poverty line of US$1 a day, and it's estimated that over 70% live in informal settlements. 
These settlements are prone to evictions because they occupy land which is increasingly becoming targeted for high-value property development projects. 
As a result, at least 50,000 people have been forcibly evicted from these areas in a violent four-year campaign by Lagos State authorities and police, leaving several dead and tens of thousands homeless.
Homelessness, violence and families torn apart
We spoke to 97 people who told us they have lost almost everything in raids carried out on their communities without consultation, adequate notice, compensation, or offers of alternative housing.
The forced evictions and related attacks in Lagos resulted in at least 11 deaths, some or all of which may amount to unlawful killings. We have also documented reports of people who disappeared during the forced evictions, massive destruction of property, homelessness, loss of livelihoods, separation of families, and children deprived of access to education.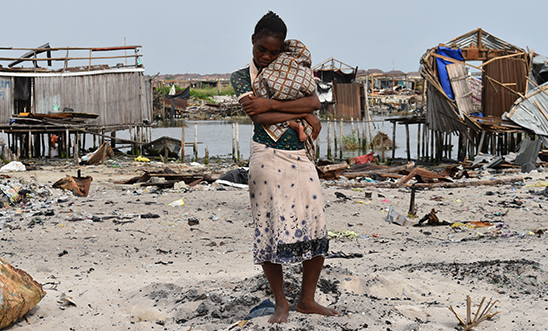 One evictee, 27-year-old Florence Keyimo (pictured above), a mother of three, told us that she had not seen her husband since November 2016: 
'We were together in the house with the children that night, but I have not seen him since we all ran out.'
Another eyewitness, Celestine Ahinsu, gave us the following statement:
'Some people that don't know how to swim jumped into the water, so we have some people that have gone [drowned]. Police were firing gun, everybody was running… so they had to run for dear life... in the process of running, [one] woman not knowing that there was river in her front just [fell] in.'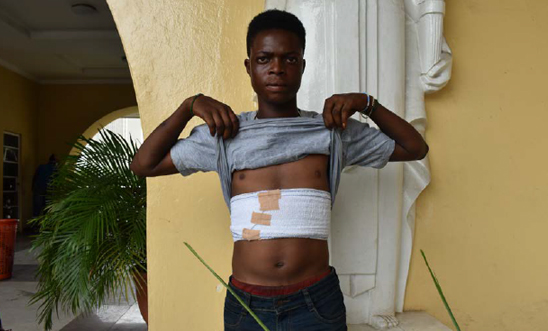 During a forced eviction in April of this year, Monday Idowu (pictured above) was shot and injured whilst trying to save his belongings during a chaotic and violent raid. His friend Daniel, a 20-year-old father of two, died in the crossfire. 
A struggling city
Many of these evictions follow the Lagos State Governor's 2016 announcement that authorities would demolish all structures in informal settlements along waterfronts and creeks, to address security concerns. There are at least 40 of these settlements, home to at least 300,000 people who need somewhere to live.
Even if these evictions were necessary, they could be carried out lawfully when done in accordance with international human rights laws and standards, notably the UN Code of Conduct for Law Enforcement Officials and the UN Basic Principles on the Use of Force and Firearms by Law Enforcement Officials. 
But an eviction becomes a forced eviction when states fail to comply with these important standards, which is what we are seeing in Lagos.
Preventing further atrocities 
We're calling on Lagos State authorities and the Nigerian police to immediately take steps to address these human rights violations and prevent further atrocities. 
They must launch an investigation into the forced evictions and violent attacks on residents, and hold to account everyone – including officers of state agencies – found to be responsible. 
All victims of forced evictions must have access to compensation (including for any property damaged during forced evictions), rehabilitation, and a guarantee that this won't happen again.
Read the full report, Nigeria: The Human Cost of a Megacity, now