Join the Amnesty UK Feminist Network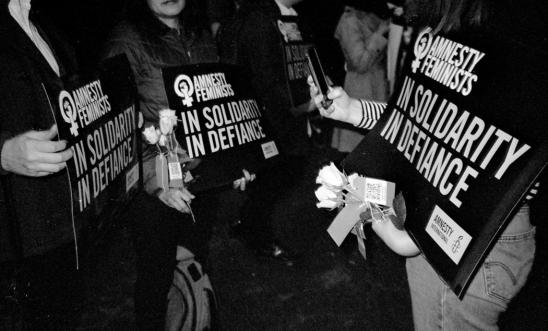 Protests in support of the unrest in Iran in 2022 © Meg Tall
About Amnesty Feminists 
Women are discriminated against and subjected to violence the world over, just because they are women.
Amnesty Feminists is a network of activists focusing on defending the human rights of women and girls, wherever they're denied.
We stand in solidarity and in defiance with women human rights defenders everywhere. 
About #WearWhatYouWant
Too long, too short. Too revealing, too covered up. All around the world, women's bodies and how they dress is policed by patriarchal laws and social norms. We've had enough.
#WearWhatYouWant is our umbrella campaign to denounce the restrictions imposed on how women dress and to celebrate women's right to choose what they wear without shame, judgment, or reprisals.  
Follow us on Twitter
Follow us on Instagram
Sign up to our newsletter using the form below