Informe Robinson documentary double bill - Friday 6 June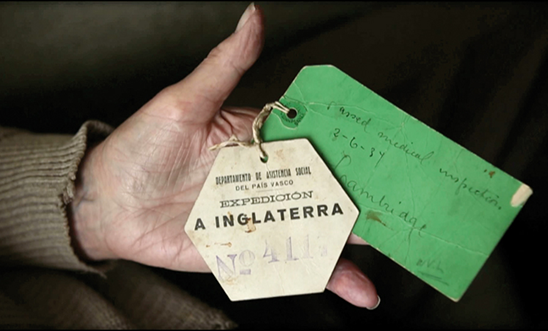 The Children of the Habana tells the extraordinary story of the evacuation of 4,000 children from Bilbao
Friday 6 June 6:15pm
UK Premiere
Location: Hackney Picture House, 270 Mare Street, London, E8 1HE
Running time: 70 minutes
Directors: José Larraza and Román Escoda
Spain's award-winning monthly sports TV programme Informe Robinson – hosted by former Liverpool and QPR striker Michael Robinson – brings us two documentaries exploring the role of football in war and conflict.
The Children of the Habana
The 2013-2014 Premier League had more Spanish players than ever, but who were the first Spaniards to play professional football in England?
In the spring of 1937, with the Spanish Civil War raging all around them, a group of 4000 unaccompanied child refugees sailed from Bilbao, on a re-commissioned cruise liner called the Habana, to safety in England. They were told they would only be gone for three months, but many would never return to the country of their birth to live.
With little formal schooling available to them in England, and that which was disrupted by the outbreak of the Second World War two years later, the children – the boys at least – spent much of their time playing football.
It served them well. They didn't know it at the time, but among the children on board the Habana were a handful who would go on to become to first Spaniards to sign for clubs in the English league – clubs such as Wolverhampton Wanderers, Coventry City, Southampton and Brentford – paving the way for the likes of Arteta, Silva, Torres and Enrique today.
The Hour of Africa
The Hour of Africa looks at what the 2010 World Cup meant for South Africa. John Carlin, journalist and author of Playing the Enemy: Nelson Mandela and the Game That Made a Nation, joins Michael Robinson to explore the status and role of football under apartheid, and follows its changing role in South African society since then.
Q&A
Followed by a Q&A with Informe Robinson reporter José Larraza; editor of The Blizzard Jonathan Wilson; and Amnesty's Naomi Westland. They will discuss whether 2010 was 'Africa's hour', the legacy of the World Cup and similarities with – and lessons for – Brazil 2014, as well as the broader theme of football and conflict in both documentaries.