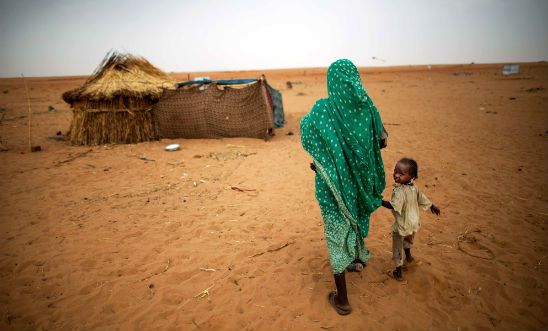 © Photo: Associated Press
Amnesty has uncovered credible evidence that the Sudanese government has used chemical weapons to kill and maim its own people. 
Devastating impact
Our investigation reveals that brutal military assaults have damaged or destroyed more than 170 villages in the remote Jebel Marra region of Darfur since the start of 2016.
At least 30 of these attacks are thought to have involved chemical weapons – the most recent occurring on 9 September 2016. 
"Chemical weapons have been banned for decades in recognition of the fact that the level of suffering they cause can never be justified. The fact that Sudan's government is now repeatedly using them against their own people simply cannot be ignored and demands action."

Tirana Hassan, Director of Crisis Research, Amnesty International
Researchers used satellite imagery, expert photo analysis and more than 200 in-depth interviews with survivors to piece together a picture of the attacks. Two independent chemical weapons experts have confirmed that the evidence strongly suggests chemical agents were used. 
The scale and brutality of these attacks is hard to put into words. Based on civilian testimonies, we estimate that up to 250 people may have been killed by chemical exposure – many of them children. More are thought to have died from starvation, dehydration or a lack of medical care in the aftermath of attacks.

Horrific injuries
The effects of chemical weapons on the human body are devastating. 
Survivors described terrible injuries, including blistering, rashes and patches of skin changing colour and falling off. Some suffered swollen eyes, vision problems and blindness. Coughs, respiratory problems, vomiting and diarrhoea were also widely reported. 
In many cases, symptoms emerged or worsened in the days after the attacks. 
Halgah, a woman in her twenties, recounted how a bomb fell in her village, releasing toxic smoke. Six months later she and her baby are still suffering from the effects.
"When [the bomb] landed there was some flames and then dark smoke… Immediately it caused vomiting and dizzying… My skin is not normal. I still have headaches, even after I took the medicine… The baby is not recovering… he is swollen… he has blisters and wounds… they said he would get better… but it is not working."

Halgah, speaking six months after the attacks
Civilians targeted
The suspected chemical attacks are part of a major military offensive launched in January 2016 by Sudanese forces in Jebel Marra against the Sudan Liberation Army/Abdul Wahid (SLA/AW). 
It's clear that civilians have been repeatedly and brutally targeted in this campaign, in actions that contravene international law.
Amnesty International has documented gross human rights violations, including the systematic bombing of men, women and children, the abduction and rape of women, and forced displacement of communities. 
"Our village and other villages around Sorrong were all attacked and burned. My husband was shot in the head while we were in our house. He was shot by men in camouflage uniforms. My husband was a farmer. He had nothing to do with the rebels."

Suad, whose village near Sorrong was bombed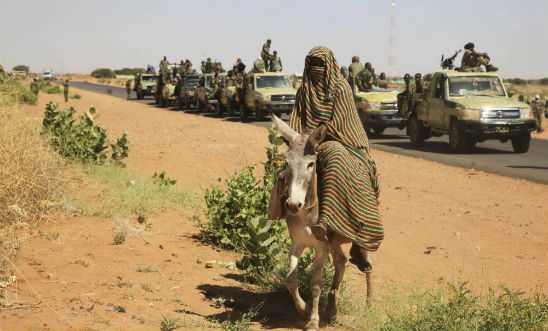 The UN must act
Darfur has been stuck in a catastrophic cycle of violence for more than 13 years. Despite a joint UN and African Union peacekeeping mission, ordinary people continue to be subjected to horrific abuses.
Targeting of civilians and the use of chemical weapons are war crimes. Evidence that these tactics have been used by the Sudanese government indicates a regime that has no fear of international retribution.
World leaders must take urgent action to protect the people of Darfur. We're calling on the UN Security Council to: 
pressurise the Government of Sudan to ensure that peacekeepers and humanitarian agencies can reach remote populations like the people of Jebel Marra 
ensure the current arms embargo is strictly enforced, and extended to cover the whole country 
urgently investigate the use of chemical weapons and, if there is sufficient admissible evidence, prosecute all those involved.
How you can help
Darfur is closed to outside investigators, so we still don't know the full scale of these brutal attacks - that's where you come in.
You can help us search satellite imagery to identify buildings such as homes, farms and schools in remote parts of Darfur. Once we've mapped the area, more digital volunteers will check against recent satellite photos to see how many villages have been damaged or destroyed.
Take part now – help us expose war crimes in Darfur.
This evidence will be crucial in exposing the extent of human rights violations in Darfur, and pushing for action.
You can take part right now, using your laptop, phone or tablet. All it takes is a quick tutorial, then you can start searching satellite photos straight away.
A revolutionary project
This is the first time we've used crowdsourcing to investigate human rights violations in this way.
This approach enables us to analyse thousands of square kilometres of satellite imagery to gain a clearer picture of what's happened in Darfur – a task that would simply be too huge for our researchers alone.
It means anyone with internet access and a few minutes to spare can help us investigate grave human rights violations on a massive scale.
Once we have the data, our experts will carry out further checks and analysis to ensure the results are accurate. And we'll report back to people who have taken part to let them know what they've helped uncover. 
We're determined to uncover the scale of these horrific attacks and ensure civilians are protected.