What we're doing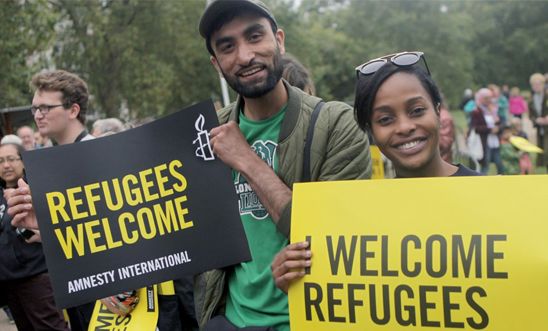 Youth and School groups up and down the country have been raising money to support our I Welcome campaign – thank you so much. 
Like you, when we see people suffering, we don't back away – we act.
We're partnering with City of Sanctuary to create communities of welcome across the country. 
We're lobbying the UK government to change the cruel family reunion law which prevents child refugees from bringing their relatives to the country.  
We're conducting research to help end the abuses we see committed against refugees and migrants right here in the UK.
And we've got over 7 million people like you that we know are right alongside us. 
How your money will help
We couldn't do any of this without the help of generous Amnesty supporters like you. The money you have raised could help support our work:
Collecting evidence of the human rights abuses refugees face at every stage of their journey
Advocating decision makers to fix the systemic problems creating this crisis
Stopping the fear mongering in the media and maintain public support for a compassionate response 
Pressuring our government to create more safe and legal routes for people fleeing persecution, so families don't need to turn to smugglers and attempt such dangerous journeys.
Thank you. 
How have other groups raised funds?
There are many ways supporters like you have been getting involved in fundraising for refugees. Croydon High School Amnesty Youth Group organised a series of events including a 'Celebration of Refugees' this the summer. They sold sweets, made cards for new refugees, wrote collaborative poetry and displayed a collage of people's personal stories and journeys.
The Davison's Amnesty International Youth Group in Worthing set the ambitious challenge to collectively walk the distance from Syria to Worthing – over 2,000 miles. Through this challenge they were able to highlight the difficult journey many refugees make to flee conflict, persecution and violence, while also raising funds. Fern Whitnall-Sale from the group had these tips to share:
"My top tip to other groups thinking of doing a similar event would be to keep determined and make sure you work as a team. We gave each group member a role and responsibility.

So, there is someone responsible for publicity, someone responsible for the JustGiving page, one person who checks our progress on the pedometers and group leaders.
Also, it's really important to raise publicity of the event. We did this by putting up posters around school, handing out leaflets at school events and giving shout-outs at meetings and events.

We put our JustGiving page link on the posters and leaflets, so everyone knew where to sponsor us."
Other ways to donate
To donate by phone, call our Supporter Care Team on 020 7033 1777
Send a cheque payable to 'Amnesty International UK' to:
Amnesty International UK
17-25 New Inn Yard
London EC2A 3EA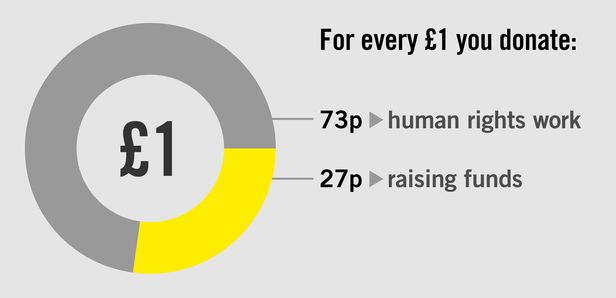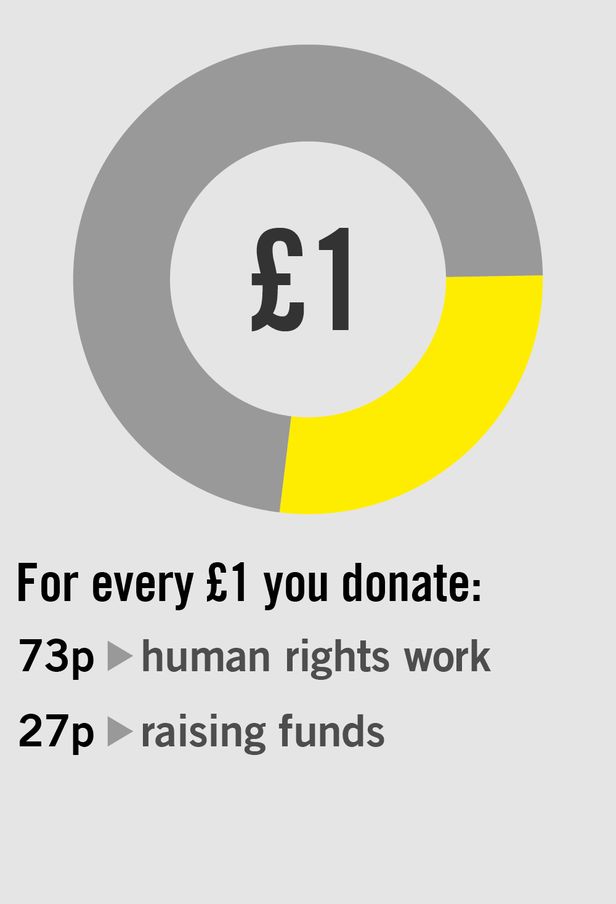 Other ways to donate
To donate by phone, call our Supporter Care Team on 020 7033 1777
Send a cheque payable to 'Amnesty International UK' to:
Amnesty International UK
17-25 New Inn Yard
London EC2A 3EA
To donate by phone, call our Supporter Care Team on 020 7033 1777
Send a cheque payable to 'Amnesty International UK' to:
Amnesty International UK
17-25 New Inn Yard
London EC2A 3EA