It's hard to replicate the feeling of triumph that comes after hours of expertly negotiating demanding levels, completing quests, dominating boss battles and completing your favourite games. But many gamers have found a way to challenge themselves even further by taking on improbable speedruns — all with the aim of beating their friends or even world records. Want to get involved? Read on to find out how. 

First of all, what is speedrunning? Well, its roots can be traced back to everyone's favourite speedy blue hedgehog, when extra points were awarded for completing a level with him in under 30 seconds. The beauty was that you didn't need to spend time negotiating enemies or collecting every shiny, spinny thing on screen — it was all about speed. 
Speedrunning was born, and with it the chance to compete with peers to find out who is speediest at any given level or game. And where there's the opportunity to compete, there's opportunity to fundraise. 
You may be a seasoned pro or an absolute novice just itching to prove your worth. Whatever your ability, this comprehensive guide will give you all the info needed to set up and host your own speedrunning event with friends and family to raise money for Amnesty's vital human rights work around the world.
1. Choose your competitors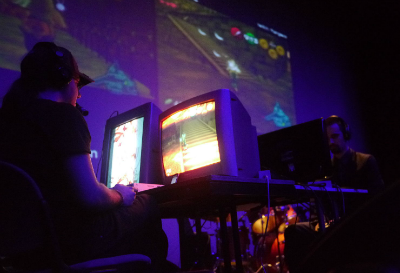 If you're competing with friends or local competitors then your speedrunning competition could be a social occasion. You can't beat having a room full of friends and family frantically competing to be crowned the speedrunning champion.
These days it's equally possible for gamers to set up their speedrun challenges online. You can compete with friends or the general public over any time period and stream your attempts to one another. This is a great way to interact with the online community and promote what you're doing to a larger audience. 
At its heart, your speedrun should be lots of fun. So first things first: get a date in the diary, and invite everyone you know.
2.
Choose the game

Here's where it gets interesting. There are a few options:
Organise a 'blind' game – a game that's revealed only on the night of the event by someone totally impartial.
Organise to play a game none of you have ever played before, but give a set amount of time for people to learn it ahead of the big event (you can be as generous as you like).
Organise a game you and your competitors are good at already and set the bar really high from the outset.
Or if you're a genuine contender, why not pick a game you've mastered and take on the world record for Amnesty?
Whatever you decide, this is the biggest part of the event and the thing that will most help with promotion and fundraising. 
3.
Decide on your fundraising ask

Step one: Set up an online sponsorship page at JustGiving or Virgin money Giving, personalise it and fill it out with details of the event.

Step two: Start plugging it with friends and family.

Step three: Decide how you want competitors to contribute — they could make a set donation, or make a donation for entry per turn. 

Step four: think about if you want to give away prizes on the night as an incetive for people to get involved. We've got t-shirts and badges which you can use. 
4.
Promoting your event

Ahead of the event: You can use social media to promote the event to potential competitors and donors, and encourage friends and family to do the same. 

During the event: You could use Twitch, Ustream or Youtube to broadcast your event. This would allow your online audience to interact throughout — interaction that could help generate more donations from those who aren't able to be there in person. For example, they can make a donation for someone else to play on their behalf. 

Broadcasting also means you can engage your viewers in what you're doing and the reasons why, talk about our work and even hold competitions they can take part in to win Amnesty goodies.
5.
Event day

Make sure everything is set up, ready to go and working ahead of the event.

Do some final shout outs on social media.

Make sure you're stocked up with food and drink for competitors and spectators — you could even use refreshments as another fundraising opportunity

Keeping your online followers updated on the progress of the games and the fundraising. If you're not broadcasting your event, you can share images or videos of your gameplay. The more you can interact with your peers the more buzz it will create and the more likely you'll smash your fundraising target. 

Most importanty - enjoy yourself. You're doing something amazing. The funds you  will be put towards our vital human rights work around the world, so not only will you be fighting the bad guys virtually, you'll be doing it in real life as well.
6. Don't be afraid to ask for help
We're here to help you every step of the way. If you have any questions, or need any help please get in touch with Team Amnesty:
Email: team@amnesty.org.uk
Phone: 020 7033 1651