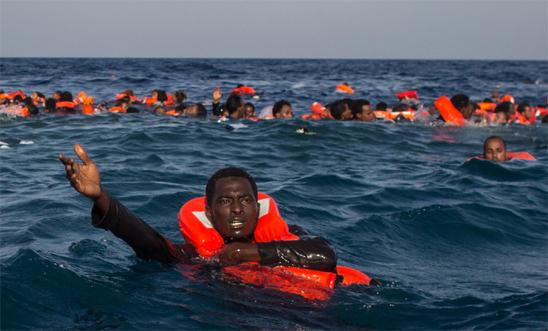 Pictures from the Human Rights Action Camp in Lampedusa from 20th - 27th July 2014. Action in Lampedusa on 25 July 2014: over 60 activists demand that EU leaders put people before borders! © Chris McGrath/Getty Images
Rising death toll at sea
A humanitarian crisis continues to unfold in the central Mediterranean as thousands of people die at sea in the desperate attempt to reach safety or a better life in Europe. In the first half of 2017 73,000 refugees and migrants reached Italy by sea: 14% more than in the same period the previous year. Around 2000 have lost their lives, bringing the mortality rate this year to 2.7%. This represents a three-fold increase over the second half of 2015, when EU-led search and rescue efforts were at their height. 
The immediate cause for the rising death toll is that the conditions in which refugees and migrants have been made to cross the sea have deteriorated. Partly in response to EU-led efforts to disrupt their activities, smugglers in Libya have been loading more people onto boats of a lesser quality, mostly inflatable rubber ones, with insufficient fuel, no lifejackets or other safety features, and often with no means to call for help, such as a satellite phone. These boats have virtually no chance of reaching European coasts by themselves and they are in need of rescue from the moment they depart.
A reckless strategy
The magnitude of the loss of life so far, and the likelihood of imminent large shipwrecks occurring at any moment as departures continue, should have prompted European leaders to deploy more ships dedicated to rescue operations as close as possible to Libyan territorial waters. Instead, European leaders have prioritised measures to prevent refugees and migrants from departing from Libya in order to keep the number of arrivals in Europe down, notably through increased cooperation on migration with the internationally recognized Libyan authorities. In the past year, the centrepiece of their strategy has been cooperation with the Libyan coastguard. With the purported aim of saving lives at sea by preventing dangerous crossings, European governments have provided the Libyan coastguard with training and assets and have encouraged it to intercept refugees and migrant boats trying to reach international waters. 
This reckless European strategy is not just failing to deliver the desired outcome of stopping departures and preventing further loss of life, but is in fact exposing refugees and migrants to even greater risks at sea and, when intercepted, to disembarkation back in Libya, where they face widespread and grave human rights violations and abuses including killings, torture, rape, kidnappings, forced labour, and arbitrary detention in cruel, inhuman and degrading conditions.
Back in the summer of 2015 when, following two major shipwrecks which cost the lives of 1,200 people, European leaders stepped up resources for rescuing refugees and migrants at sea, successfully bringing the mortality rate down. Now however, European leaders have ceased to view search and rescue as a priority and have failed to respond to the changing conditions and increased dangers refugees and migrants are now exposed to. Various operations currently deployed in the central Mediterranean (the European border control agency operation Triton, the EU military operation EUNAVFOR MED dedicated to destroying smugglers' boats, and the Italian Navy Mare Sicuro) and vital rescue efforts provided by the non-governmental organizations have tried to fill the gap.
What we're calling for
In the absence of sufficient safe and legal routes for refugees and migrants to access European territory, and for so long as dangerous departures from Libya continue, European leaders must commit to deploying dedicated resources for search and rescue near Libyan territorial waters and disembark those rescued at a place of safety. In short, a multi-country humanitarian operation under the operational coordination of the Italian authorities, similar to what was in place in 2015 is urgently needed.
Cooperation with the Libyan coastguard must be driven exclusively by search and rescue concerns and made conditional on the Libyan authorities agreeing to the following measures:
The Libyan coastguard should not carry out search and rescue activities outside Libyan waters;
The Libyan coastguard should allow search and rescue operations by civilian vessels, including boats operated by NGOs to take place unhindered in Libyan territorial waters;
The Libyan coastguard should not be allowed to claim and exercise on scene command during a search and rescue operation and should transfer any rescued person onto EU or foreign vessels participating in the operation to be disembarked in a place of safety; and
The Libyan coastguard should accept the immediate establishment of a mechanism to ensure solid monitoring of their conduct and operations at sea, and of an accountability process in case of breaches of international law and standards.
More broadly, European leaders should make cooperation on migration with Libyan authorities conditional on verifiable progress towards ending automatic detention of irregular migrants in Libya, the establishment of an asylum system and the granting of unhindered access to detained refugees and migrants for international agencies.