Egypt after the 2011 revolution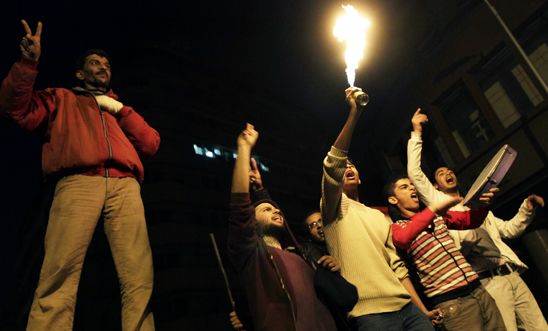 Egyptian anti-government protesters celebrate the resignation of President Hosni Mubarak in Tahrir Square, Cairo, 11 Feb 2011 © EPA/FELIPE TRUEBA
On 25 January 2011 an unprecedented number of Egyptian men, women and children took to the streets to demand change in their country. For over two weeks they marched on main streets, occupied squares and rallied outside government buildings. They called for democracy, for human rights and for freedom from Hosni Mubarak's oppressive 30-year-rule.
On 11 February - just 17 days after the protesters had gathered in Tahrir to call for the president's resignation - Mubarak announced that he was stepping down.
This triumph cost the protesters - hundreds were killed and nearly 7,000 others were injured, while thousands more were detained and many of them tortured. But when Mubarak stepped down, jublilation filled the streets of Egypt. A new dawn had arrived. Or had it?
11 February 2011: Supreme Council of Armed Forces takes over. Abuses continue.
In the wake of Mubarak's fall, the Supreme Council of Armed Forces (SCAF) took control until power could be handled to an elected civilian government.
But far from bringing an end to the pain endured under Mubarak, during its 17-month rule the SCAF continued the legacy of torture, of violently suppressing protests and dissent. In fact, more civilians were tried before military courts in one year of the SCAF's leadership than during 30 years of Mubarak's rule.
In the end, over 120 protesters were killed under the army's rule. To date, only three low-ranking soldiers have been convicted of contributing to their deaths.
24 June 2012: Mohamed Morsi named President in Egypt's historic elections
Mohamed Morsi became Egypt's first democratically elected president in over three decades. He ran a campaign that promised justice for the 'martyrs' of the revolution. He promised freedom of expression and political inclusion.
Morsi did oversee small steps towards political freedom, but at the beginning of 2013 these rights remained far off the agenda and Morsi repeated many of the same restrictions implemented under his predecessor.
Across the course of his leadership, various protests resulted in violent clashes between opposition to Morsi and his supporters, and between both groups and the security forces.
22 November 2012: Morsi issues a decree laying out new powers
On 19 November 2011 over 50 protesters had been killed by security forces as they gathered near the Ministry of the Interior. A year after the protesters' deaths, people gathered to commemorate the dead and protest the lack of justice for their killers. As the Central Security Forces attempted to clear the area with guns and teargas, violence broke out.
Hundreds of protesters were injured; 17-year-old high school student Gaber Salah died. Salah, known by his nickname Jika, was a member of the 6 April Movement. He was to be the first of many protesters killed during Morsi's rule.
On 22 November, shortly after the violent clashes began, Morsi reacted by announcing a new Constitutional Decree which granted him sweeping powers, stopped the courts from challenging his decisions, and dismissed the Public Prosecutor. Perhaps unsurprisingly, this launched another round of mass protests. It lead to more violence, and the death of the second protester during Morsi's time in power: 15-year-old Islam Fathi Ibrahim Masoud.
A supporter of the Muslim Brotherhood, Islam was killed when a stone hit him on the head during clashes between those backing Morsi, and those protesting against his Decree. The violent clashes at these protests – which spread across the country, and were further ignited when a controversial constitutional draft went through the assembly on 30 November – went on to see the death of at least ten more protesters, and injured hundreds more. Many of the victims' families blamed the security forces for failing to protect their loved ones and justice remains elusive.