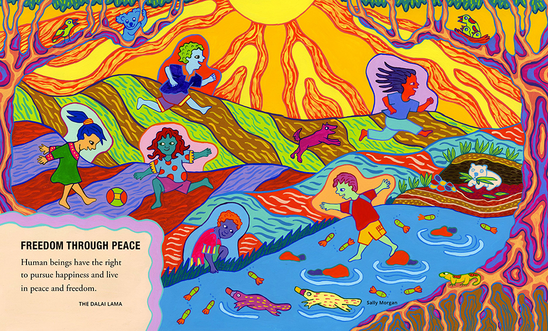 Words by Dalai Lama, Dreams of Freedom © Amnesty International/Sally Morgan
Our latest children's book combines the words of human rights heroes such as Nelson Mandela, the Dalai Lama, Anne Frank, Chief Standing Bear and Malala Yousafzai with beautiful illustrations from international artists including Oliver Jeffers and Chris Riddell.
This inspirational book empowers children across the world to explore our hard-won rights and understand how precious they are. It follows on from Amnesty's award-winning We Are All Born Free.
'Dreams of Freedom is a feast of visual stories – brave words and beautiful pictures, woven together to inspire young readers to stand up for others and to make a difference. It gives me great hope for the freedom of future generations.'
Michael Morpurgo
Chickenshed Theatre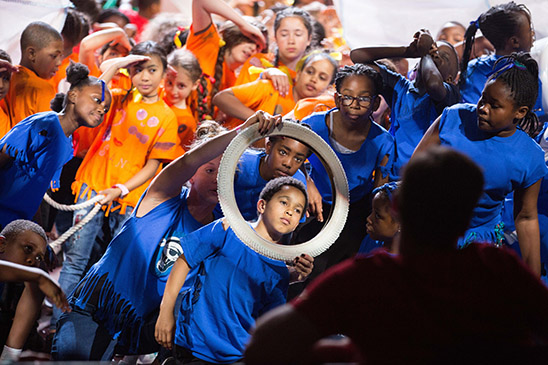 Amnesty worked closely with Chickenshed Theatre on Dreams of Freedom to deepen children's understanding through drama. Drama workshops with over a thousand children enabled them to explore what freedom means and express their ideas for a better future. This culminated with a spectacular performance  at the Royal Albert Hall in June 2017, with live drawing by Amnesty Ambassador, Chris Riddell. 
Angelina Jolie sent a special video message to the children on the night, celebrating their rights and the Convention on the Rights of the Child.
For children to build their own capacity to make positive change, they need to feel empowered. Exploring other people's stories helps them make sense of the world and gives them confidence to  express their own thoughts and opinions.
'To achieve great things, we must dream as well as do.'
Anatole France
In children's words
Our partnership with Chickenshed Theatre began when the book was first launched and Chickenshed ran a drama workshop for children to explore and dramatise the words of these human rights heroes.
Latest reviews
'A kaleidoscopic vision of what a just world might look like.'
'A tremendous and moving book in which illustrators, including Chris Riddell, Ros Asquith, Roger Mello from Brazil, Jackie Morris and Australian Sally Morgan, accompany marvellously diverse and thought-provoking quotations about freedom. It is a most inspiring read and what impresses one is the sense the book gives of there being many different versions of freedom – it is not, ever, just another word for nothing left to lose.
'Jackie Morris has drawn a songbird in a gilded cage with a tigerish cat breathing through its golden bars to illustrate Nadia Anjuman's cry: "Oh, I will love the day when I break out of this cage, Escape this solitary exile and sing wildly." (Suitable for all ages and every household.)'
The Observer, 12 April 2015
This book looks so beautiful @birgittasif @amnesty @Frances_Lincoln @OliverJeffers #dreamsoffreedom pic.twitter.com/5Ja7M8cH8S"

— aclassofmyown (@classofmyownNQT) February 27, 2015
Dreams of Freedom in beautiful words and pictures http://t.co/1R1IlQQGDI @AmnestyUK a gallery to share and savour pic.twitter.com/mXlpTdkQSt

— GdnChildrensBooks (@GdnChildrensBks) February 11, 2015
LOVE the quotes in this: Dreams of Freedom in words and pictures http://t.co/6nh5s2H8ML

— Katie Krafka (@KKrafka) February 18, 2015
Inspirational words on human rights, combined with beautiful illustrations in Dreams of freedom http://t.co/6wIBWyIKsE

— LP Library (@LPLibrarian) February 14, 2015