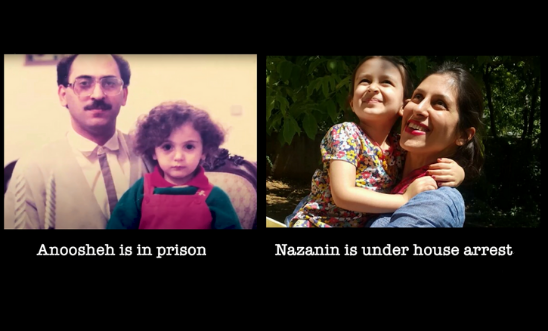 Despite calls for the UK government to secure their release before Christmas, Nazanin, Anoosheh and their families have started another year separated from each other.
Before Christmas, we launched this moving film with the families of both Nazanin and Anoosheh about facing another festive period without their loved ones:
In a Christmas card to Nazanin's daughter Gabriella, Prime Minister Boris Johnson said, "I will do my best to get your mummy home as soon as possible and am so sorry it is taking so long. This message comes just over three years since he promised to leave "no stone unturned" in the fight to get her mother home.
Furthermore, in a letter to Nazanin's lawyers, the Foreign, Commonwealth and Development Office sent a harsh reminder that British citizens arrested overseas don't have a legal right to government protection. This is hugely disappointing.
For too long, British-Iranian dual-nationals like Nazanin and Anoosheh have been trapped in Iranian jail cells unsure whether the UK was genuinely doing all it could to secure their freedom.
While Nazanin has been released on temporary furlough and is staying with her parents in Iran, there are terrifying prospects of another sham trial looming, meaning that she could end up spending yet more time detained in the country.
66 year old Anoosheh is at acute risk of coronavirus in Evin prison and his family are very concerned about this health.
There's no time to lose. This year, we will continue to work closely with both families to help get their loved ones home and safe.