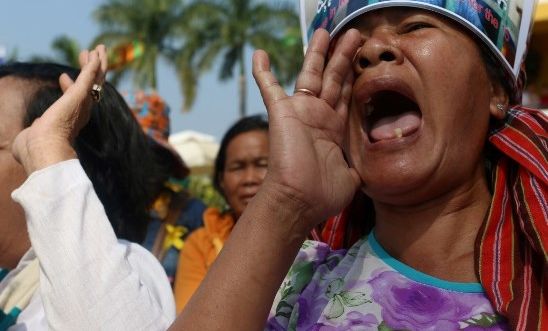 Protest outside the appeal court in Phnom Penh. © LICADHO
Ten women activists and a Buddhist monk from the Boeung Kak community in Cambodia's capital Phnom Penh have been sentenced to a year in jail after protesting against the destruction of their community and forced evictions from their homes.
Thousands of people have been forcibly evicted from the Boeung Kak lake area since 2007, when the government leased their land to a company for development.
The former lake was filled in with sand, which has led to serious flooding in the neighbourhood during periods of heavy rain.
Most of the families affected have now received some compensation but protests have continued for the dozens of people excluded.
Women leading the way
Women from Boeung Kak have been at the forefront of the community's campaigning to secure land titles for the residents and to draw attention to other social issues.
Many have faced arrest and jail on a number of occasions for their peaceful activism.
Seven of the women were arrested after pulling a bed frame into the road as a symbolic act of protest against the authorities' apparent inaction over flooding in their neighbourhood.
They were charged the next day for obstructing traffic under the Traffic Law, and sentenced to one year in prison after a trial lasting less than three hours.
The four other activists were arrested after staging a peaceful protest outside the Phnom Penh Municipal Court to call for the seven women's release. They were charged with 'obstructing a public official' and sentenced to a year in prison.
What we're calling for
We're urging the Cambodian authorities for the immediate and unconditional release of all eleven activists. We want to see an end to the law being used to intimidate and punish people for exercising their right to freedom of peaceful assembly.
'These activists are victims of the Cambodian authorities' relentless crackdown on peaceful protests – they should never have been prosecuted in the first place, let alone jailed.'
Janice Beanland, Amnesty's Campaigner on Cambodia