The Windrush scandal - just the tip of the iceberg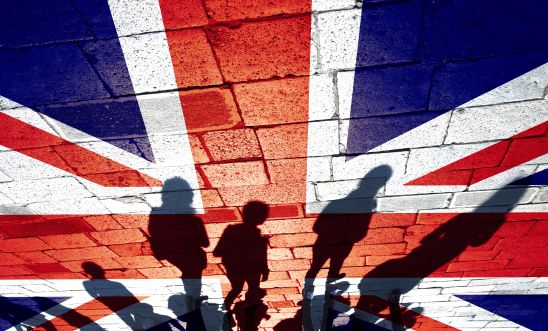 The Union Jack flag with shadows of children © robertiez
Learning from the past
The appalling treatment of the Windrush generation exposes much about the UK immigration system.
The government is working hard to contain this 'scandal', but campaigners and others concerned with the enormous damage caused by immigration policy must strive to ensure this containment is unsuccessful.
Yes, the British citizenship belatedly promised to those Commonwealth citizens who have suffered so much must be secured. But there are far deeper issues that must also be addressed - urgently.  
This isn't just about who else is affected by hostile immigration policies - though that is certainly important - it is about recognising and confronting the harms and wrongs endured by the Windrush generation so that similar injustices aren't repeated in the future.
This will only be achieved by facing up to and learning from the past.
The Windrush story
On 21 June 1948, the Empire Windrush docked at Tilbury. Among those on board were 492 people from the Caribbean. The ship had stopped over at Jamaica, and as its capacity was far from full, a newspaper advert was placed offering cheap transport to anybody wanting to come and work in the UK.
As British subjects, they were freely entitled to come, stay and go from the UK as they wished. They shared the same nationality as the resident population as well as the many other British subjects of the Empire and former colonies.
There are, however deeply shameful aspects to the history of these Commonwealth citizens who, as British subjects, came to the UK to fill labour shortages after World War II.
Racism in immigration policy
Firstly, despite there being no distinction within nationality law concerning British subjects, successive governments set about restricting the immigration rights of some but not others. They did so intending to differentiate on the basis of race.
Many black and asian people from countries such as Jamaica and India  had fought and died, alongside white British subjects in the two World Wars. Still, policy-makers assumed it would be predominantly white people, from the 'old commonwealth' or 'white dominions', exercising their longstanding rights to come to the UK.
When it became clear this was not the case, British politicians set about introducing restrictions on certain British subjects but not others. Successive immigration acts of 1962, 1968 and 1971 were passed to achieved this.
The Immigration Act 1971 was the last of these. While it preserved certain immigration rights of Commonwealth citizens who had already settled, it firmly established a distinction among British subjects concerning rights to enter and stay in the UK.
When the British Nationality Act 1981 came into force a decade later, it established what is now British citizenship.
The primary means whereby the Act recognised British subjects at the date of its commencement as British citizens was restricted to people the 1971 Act did not treat as immigrants. Many Commonwealth citizens, therefore, both ceased to be British subjects and did not become British citizens by the passing of this Act.
 A 'hostile environment' is nothing new
The experience of many black and asian people and families who came to the UK in the decades after World War II was appalling.
It is horribly apt that today's Windrush scandal coincides with the 50th anniversary of one of the most seminal moments in that awful history of violent racism – Enoch Powell's infamous speech.
The suffering of many people – like Paulette Wilson, Michael Braithwaite and Anthony Thompson brought to light in recent news – is not limited to the insensitivity of modern immigration policies.
When they came to the UK, they endured an environment filled with hostility, discrimination and violence – a reality that has largely been forgotten.
Politicians who devised and introduced the immigration policies of those times not only pandered to that racism, they encouraged and, in many instances, believed in it. Certainly, their actions and their words helped foster and sustain it.
Insensitive immigration policy
The immediate cause of today's Windrush scandal relates to more recent immigration policy.
Policy which requires people to evidence their citizenship or immigration status to access healthcare and social assistance, to work, rent accommodation and have a bank account.
Documentation of immigration status has also changed, and Home Office guidance has ceased to recognise the documents given to people settled in the UK before November 2008.
These policies have led to many more people having their immigration status called into question. The Home Office has previously shown no sensitivity in demanding people document decades of their life in the UK; while generally refusing or failing to assist them by checking and disclosing its own records and that of other government departments.
These policies do not just affect Commonwealth citizens. European nationals, refugees and other people settled in the UK for decades are also affected. They too experience difficulties evidencing their status, asserting their rights and face fees of hundreds of pounds merely to acquire new documentation introduced by the Home Office long after their status in the UK was first established.
Children's rights blocked
There are tens of thousands of children born in the UK growing up without citizenship and at risk of similar immigration-related problems in the future. Many of these children do not know they are not British. Those that do are blocked by a fee of £1,012 just to register the citizenship to which many of them are entitled. Then there are children born British citizens yet unable to demonstrate this because the Home Office refuses or fails to disclose its own records regarding the status of their parents.
Future Windrush scandals
Now Parliament is on the verge of passing a Data Protection Act, which will excuse the Home Office and others from duties to ensure that personal data, including about someone's immigration status, is accurate and the person to whom it relates can know it is being used and check it.
Here lie the seeds of many more Windrush-like scandals to come.
By Steve Valdez-Symonds, Programme Director for Refugee and Migrant Rights at Amnesty UK
About Amnesty UK Blogs
Our blogs are written by Amnesty International staff, volunteers and other interested individuals, to encourage debate around human rights issues. They do not necessarily represent the views of Amnesty International.
View latest posts