Home Secretary Amber Rudd's claim about child refugees could not be further from the truth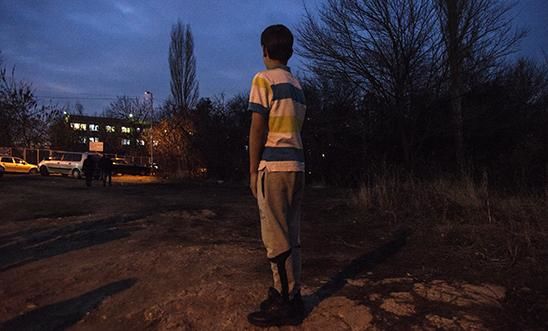 An unaccompanied minor living in a reception centre for asylum Seekers in Bulgaria © Boryana Katsarova/Amnesty International
This blog was first published on inews.co.uk on 11 February 2017.
When the Home Secretary announced this week that the government would end its scheme to bring lone child refugees already in Europe to the UK, she claimed it had to close because it encourages children to make dangerous journeys and benefits people traffickers.
This could not be further from the truth. By shutting off this lifeline to vulnerable young people living in precarious, unsafe and freezing conditions in camps, abandoned buildings and on the streets of towns and cities across Europe, she has in fact forced thousands of vulnerable girls and boys straight into the hands of traffickers. As safe and legal routes close, the journeys these children must take to find sanctuary and the chance to move on with their lives become ever more perilous.
We know this because before the scheme was introduced, unaccompanied refugee children in Greece, Italy or France had only one option of escaping the squalor of, and fear brought on by, their insecure circumstances and of finding safety in the UK or elsewhere – turn to a smuggling gang and try to find the money to pay them. Some children lost their lives because this was the only option available to them, others have been exploited and abused. The scheme's closure means there is once again no safe way for them to find sanctuary here.
Absurd yet predictable
Sadly, however, this move comes as little surprise from a government that has consistently failed to share responsibility for hosting refugees with its European neighbours, despite the fact that we are experiencing the worst refugee crisis since the Second World War. Conflict and persecution have forced 21 million people around the world to seek asylum in other countries, and as rich nations largely turn their backs, some of the poorest – and therefore the least able to cope – are left to host the greatest numbers. Those who feel the impact of this failure are among the most vulnerable people on the planet today.
Amber Rudd's claim that the ending of the scheme – popularly named after Lord Dubs, who had been a child refugee himself and championed its introduction – is in the interests of the vulnerable children it was supposed to protect is as absurd as it is predictable. The Home Office has for years made similar claims – with no evidence – about child refugees.
Forced to turn to traffickers
While ministers – including Rudd yesterday – continue to make great play of a proud tradition of providing asylum from the world's torturers and warlords, the fact remains that nobody can make a claim for asylum in this country unless and until they get here. That means that many are forced to turn to smugglers in order to make it.
For those that do, there is at least the prospect that if they are granted asylum, they will not only be permitted to stay, but will be able to once again enjoy family life. Unless that is, they are children. While adult refugees are rightly entitled to bring their immediate family members to join them, unaccompanied child refugees are not. UK government policy denies them the chance to grow up with the love and care of their parents and siblings.
A relatively small proportion of the world's refugees seek asylum in Europe, and of them very few are looking to come to the UK. Those that do have often experienced destitution, abuse and violence in regions closer to home, and exploitation and trauma on journeys seeking somewhere safe.
While some look for places where they hope to be reunited with family or compatriots, many have little notion of the destinations offered by smugglers – still less of the asylum systems that await.
Uncomfortable truths
Last October, at Conservative Party Conference, Rudd stressed her personal commitment to protecting victims of violence, abuse and slavery. In doing so, she promised to confront uncomfortable truths.
It's about time she forced her own department to confront the fact that increasing barriers to child refugees doesn't make them safe from violence, abuse and slavery. It does precisely the opposite.
And refusing to permit them the comfort of reunion with their parents and siblings – even after they've experienced such traumatic horrors to get here and been recognised as entitled to asylum in this country – is a cruel response of which nobody can be proud. 
About Amnesty UK Blogs
Our blogs are written by Amnesty International staff, volunteers and other interested individuals, to encourage debate around human rights issues. They do not necessarily represent the views of Amnesty International.
View latest posts