Charity, solidarity and heroism in Calais and Dunkirk – but UK government's response still dismal
Late on Thursday last week I was on the Eurostar heading back to London – to home, family and friends. I was tired, cold and hungry. And – so my partner tells me – a little bit smelly. I had spent the previous two days trudging through the mud and squalor at the so-called Calais Jungle and the lesser known camp at Dunkirk Grande Synthe. It was great to be heading home.
However, there was no escaping I was leaving behind many people – the many I had met and spent time with, and of course the very many more I had not – longing to make this same journey. And many of them with family here too.
There has been much written about these two camps. Two weeks ago, a High Court judge, Mr Justice McCloskey, described that at Calais as 'desolate and bleak'; and while that is an apt description of much of what I saw in the Jungle, the situation at Dunkirk Grande Synthe is far harsher, wetter and more despairing.
But I want to dwell on the people, not the camps.
In his ruling on the UK Government's obligations to allow four Syrian refugees to be reunited with family in the UK, McCloskey also took time to refer to some of the people – particularly, volunteers. Of them, he said:
'One of the lessons of history is that the desperate plight of human beings can bring out the best in mankind. This is true of 'the jungle'. A striking theme of the evidence is the charity, solidarity and near heroism which the plight of the occupants of this site has stimulated. Volunteers of all kinds – doctors, social workers, lawyers and others – feature prominently…'
Last week I witnessed many of those volunteers working tirelessly in sorely testing conditions to deliver food, healthcare, information and friendship to thousands of people living in various shelters – from the relative luxury of a converted shipping container with no running water, to sleeping under a makeshift construction of tarpaulin and bin liners. In a packed tent at Calais I watched volunteers and NGO workers doing their best to address the concerns and complaints of community leaders, including about increased vigilante violence tolerated by the police and the destruction of tents and places of worships by the authorities. They were patient and honest, but scepticism takes its toll.
In a cramped and crammed wooden shack in the heart of the Jungle, I watched three advisers struggling with interpretation provided by other camp residents to provide some basic information to unaccompanied children, families and single adults about the legal system in France and possible entitlements to be reunited with family in the UK.
'I need to sleep,' sighed the adviser at one table struggling to finish her final interview before closing for the day while a group of boys and young men still huddled outside the door hoping to be seen.
But it would be wrong to view the people now living in these camps as simply needy victims. When McCloskey spoke of the near heroism of volunteers his intention was to commend the efforts they are making. But 'near heroism' could just as easily bear an alternative meaning being the physical proximity of those same volunteers to the residents who have endured so much and continue to show such fortitude.
Community leaders – drawn from among the residents – may be demanding but they carry the responsibility of representing hundreds of people. Meanwhile, other residents of these camps are busy constructing and maintaining places of worship or assisting their neighbours with interpretation or accessing healthcare.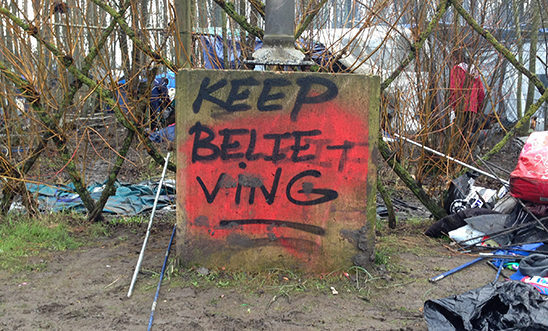 I know there are some people in this country – as in France – who are either unable or unwilling to find any empathy with the plight of refugees and other migrants at Calais and Dunkirk. But there is much charity and solidarity being shown by the people living in these camps, not just by volunteers. Of course, the more they are largely abandoned by the French and UK governments, the greater their frustration and learned doubt about the possibility of resolving their circumstances through formal processes, such as making an asylum claim in France. And, yes, that is abandonment by both governments. Responsibility here is shared, or perhaps it would be more accurate to say that it should be. 
Many French politicians and others are becoming increasingly resentful of having become the frontline for UK immigration control and wonder what benefit there is to them – not least when France already receives twice the number of asylum claims and host twice the number of refugees as does the UK.
The UK Government could and should do more to share responsibility with their French counterparts. But UK obligations are not limited to moral ones. There are many people – including children, many of them unaccompanied – in these camps who have family in the UK, which include refugees, British citizens and others long-settled here. There are also British citizens living in these camps – including very young British children. Several of these people would be entitled to come to the UK if only their legal rights were accessible to them.
At this time of unprecedented refugee migration to Europe – caused by an increase in the spread and intensity of conflict and crisis from Afghanistan through to sub-Saharan Africa – any effective response requires countries to cooperate and share responsibility with each other. The UK remains far less affected by this situation than many other EU countries, and still less than many far poorer and less stable countries beyond Europe's borders. It is high time the UK Government acted on its responsibilities.
Firstly, taking effective steps to recognise and facilitate the right to enter the UK that some in the camps with British and other UK resident families have.
Secondly, acknowledging and acting on wider responsibilities to other British and UK resident families to enable their reunion with relatives fleeing war and persecution, and currently compelled to undertake treacherous journeys in the hands of people smugglers would be an important step forward in taking a fair share of responsibility – not only with France but with many other countries shouldering far greater responsibility for refugees at this critical time.
Take action – ask your MP to help refugees safely reunite with their families
About Amnesty UK Blogs
Our blogs are written by Amnesty International staff, volunteers and other interested individuals, to encourage debate around human rights issues. They do not necessarily represent the views of Amnesty International.
View latest posts