Papuan independence activist released after 10 years in prison for waving flag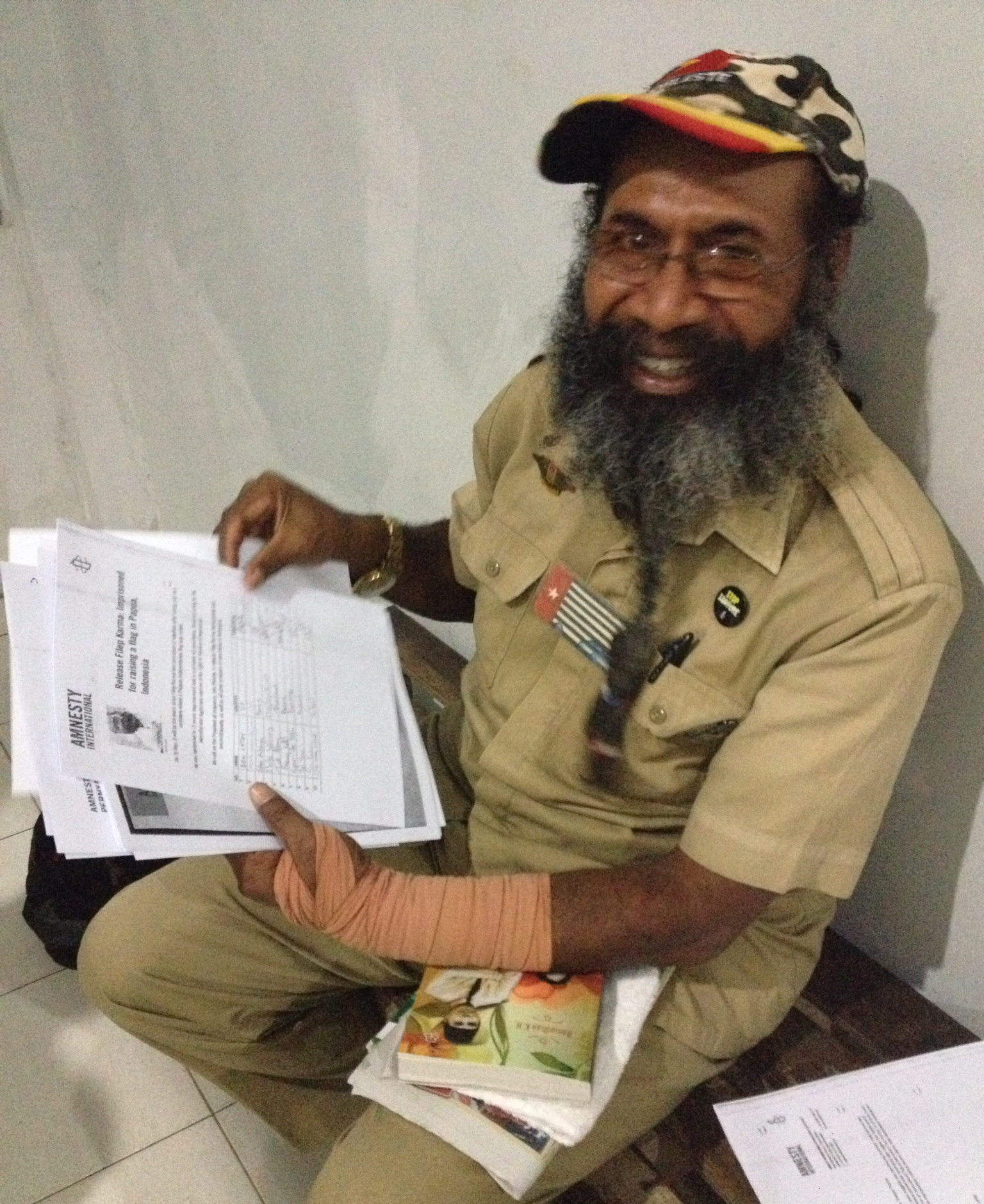 On Thursday 19 November Filep Karma finally walked free after spending 10 years in prison for waving a flag in Indonesia. Of course, Filep should never have spent any time in prison but Amnesty welcomes his early release.
Our actions over the last 10 years have kept up pressure on the Indonesian authorities, Filep's release shows the change that Amnesty supporters can achieve.
Arrested for waving a flag
On 1st December 2004 Filep Karma was amongst 200 people who took part in a peaceful ceremony in Abepura, Papua Province, Indonesia. During the event the "Morning Star" flag – a banned symbol of Papuan independence – was raised. Police responded by advancing on the crowd, firing warning shots and beating people with batons.
Filep Karma was arrested at the site of the ceremony. He was reportedly beaten as he was transported to the police station. A group of about 20 people were later arrested at the police station when they went to protest Filep Karma's arrest, Yusak Pakage was subsequently arrested as he had also participated in the ceremony. Filep and Yusak were subsequently charged with rebellion and expressing hostility or hatred towards the state. On 26 May 2005 Filep Karma was sentenced to 15 years in prison while Yusak Pakage was sentenced to 10 years in prison. Yusak was released on 7th July 2010 after receiving a presidential pardon.  
Filep Karma was a prisoner of conscience, imprisoned for the exercise of his rights to freedom of expression and peaceful assembly.
Free after years of campaigning
Filep Karma walked free 5 years before the end of his sentence. He was released unconditionally after years of campaigning from Amnesty activists around the world.
Following his arrest in late 2004 Amnesty International started mobilising supporters around the world and began calling for the immediate release of Filep Karma and Yusak Pakage. Over the years Amnesty supporters around the world have sent thousands of letters to the authorities in Indonesia calling for their release.
On 27 November, our team in Indonesia spoke with Filep following his release. He wanted to pass on the following message to you:
'I thank my friends from Amnesty International that have long been fighting for my release. I personally would like to thank all my friends, including the friends that I do not know, whether it's a member of Amnesty International or not.

'I thank the school children and university students from all over the world who have sent letters to me. I still need the support of Amnesty International because the fight for the human rights in Papua has not yet finished, the release is only the beginning. I will continue to fight for human rights in Papua.'
At Amnesty UK we included the case in our annual Write for Rights campaign in 2007, 2008, 2009, and 2011 – when supporters across the UK wrote thousands of letters of support to Filep Karma and Yusak Pakage and called for their release. The picture of Filep Karma above was taken in 2012, when Filep Karma received thousands of messages of support from Amnesty activists around the world. Here you can see the impact that a letter of support can have on an individual, you can take part in this year's Write for Rights campaign and write your own messages of hope to individuals around the world here.
Long term support from Amnesty activists
Whether writing letters, running stalls, or sending solidarity cards, Amnesty activists across the UK have kept up the pressure on Indonesia over the last 10 years. In 2007 school pupils from across the country made 'keys for freedom' and around 10,000 of these keys were created and delivered to the authorities in the summer of 2007.
In 2012 Amnesty activists greeted the visiting Indonesian President with a demonstration outside Downing Street. Around 125 activists joined Amnesty staff and other organisations to highlight human rights abuses in Indonesia, including the continued imprisonment of Filep Karma.
Amnesty activists have organised film screenings and letter writing sessions across the country over the years, to raise awareness of Filep and to remind the authorities that we are still calling for his release.
Amnesty activists have joined together over the last 10 years to campaign for Filep Karma's release. School groups, local groups, and student groups all over the country have organised events and campaigns to highlight Filep's case and call for his release. Today, Filep Karma is a free man once again and this is a testament to the power that Amnesty activists have and what we can achieve together.
Improvements in Papua
Amnesty International hopes that Filep Karma's release signals a move away from the repressive tactics frequently used by the authorities to silence peaceful dissent in the Papuan region. Besides releasing all prisoners of conscience, the Indonesian authorities must set up a mechanism to address the culture of impunity in Papua and deal with current and past cases of human rights violations by security forces. Amnesty will continue to call for Indonesia to release all of its prisoners of conscience.
About Amnesty UK Blogs
Our blogs are written by Amnesty International staff, volunteers and other interested individuals, to encourage debate around human rights issues. They do not necessarily represent the views of Amnesty International.
View latest posts