Use your right to peaceful protest, creatively!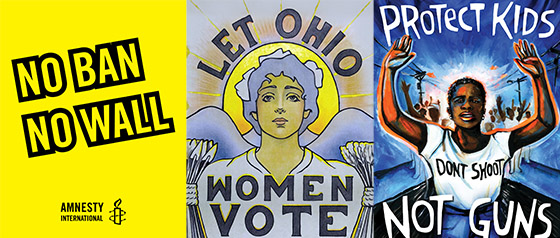 By Heather Anderson, publishing programme volunteer
Art has always played a crucial and game-changing role in confronting social, cultural and political injustice. It's risky, it's brave and it's impactful. Just look at Rosie the Riveter, Banksy, The baby Trump blimp?! Where would we be without these icons of social change? Although I admit that last one we could probably all live without. 
The point is creative protest is inherent to a free society; more than that it is a fundamental element of basic human rights. Some of history's most iconic campaigns for change and social progress are defined by their creative defiance and by their refusal to accept blind authority. Art unifies us in our common humanity and in the face of corruption and abuses of power. 
Still today, we see all too often the effects of injustice, of political powers picking and choosing when it comes to basic human rights. Protesters to this day are all too often censored, arrested, even killed for standing up for what they believe in. 
To celebrate the impact that the visual arts have had on human rights Palazzo Editions and Amnesty have collaborated on beautiful new books. The Art of Protest (for adults) and Rise Up! (for children) are dynamic collections of over a hundred years of protest art created by brave people who demanded change, with passion and creativity.
The images in these books are an inspiration and a sobering reminder of how far we have come how far we still have left to go. They show the creative best of humanity in a world where human rights are constantly challenged.
Check them out below!
Art of Protest by Jo Rippon, foreword Anish Kapoor (Palazzo Editions, 2019)
Against an increasingly polarizing political backdrop, The Art of Protest takes a visual journey through over a hundred years of social protest.
From the early 20th century suffragettes through uprisings of the 1960s and 1970s to contemporary, social media-driven demonstrations of dissent, this illustrative history features iconic posters from world-renowned artists. They include notable posters from the archives of Amnesty International, as well as spontaneous ephemera from short-lived print collectives and street activists.
With a foreword from celebrated artist, activist and Amnesty Ambassador Anish Kapoor, The Art of Protest showcases more than 100 vibrant and often humorous posters. It covers key campaigns such as women's liberation, nuclear disarmament, the civil rights movement, climate change, AIDS activism, and Black Lives Matter. It includes artists who have pushed boundaries, given voice to the marginalised, and railed against those who seek to deny people their rights to peace and equality.
Buy the book and more at our Amnesty shop here.
Rise Up! Art of Protest by Jo Rippon, foreword Chris Riddell (Palazzo Editions, 2019)
This is the children's edition of The Art of Protest and is suitable for young people aged 8-12 (approximately). Like the adult edition, it's a vibrant and dynamic anthology of protest poster art. 
Human rights belong to every single one of us, but they are often under threat. We can use our rights to peaceful protest and freedom of expression to protect the powerless, give strength to the weak and speak for those who have no voice. It unites us in our journey to make the world a better place for everyone.
 
Rise Up! The Art of Protest looks at creative protests from the last 100 years or so, the ideas that inspired them and how these issues are being protested today. These posters have inspired generations of people to stand up for what they believe.
Inspired? Pick up this book and more here.
 
About Amnesty UK Blogs
Our blogs are written by Amnesty International staff, volunteers and other interested individuals, to encourage debate around human rights issues. They do not necessarily represent the views of Amnesty International.
View latest posts