Countering toxic debate and hate crimes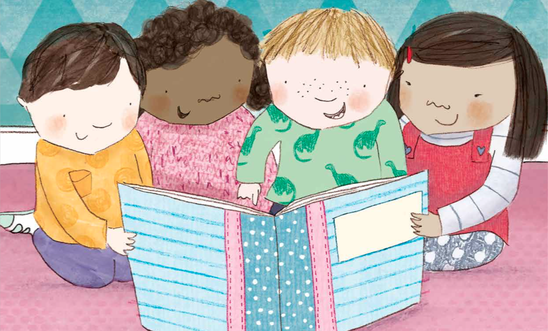 © Holly Sterling
This was written by Vini Lander, Professor of Race and Teacher Education at the University of Roehampton
Literature helps us to dream differently. It can inspire ambition, plant seeds of hope and, of course, educate us. 
For Black History Month, I want to reflect on how ethnic representation in children's books can help counter hostility and show us how diverse our communities really are.
Only 7 per cent of children's books published in the UK in 2018 featured Black, Asian or Minority Ethnic (BAME) characters, and only 4 per cent featured BAME main protagonists, according to the latest Reflecting Realities report. This is a ground-breaking survey run by the Centre for Literacy in Primary Education (CLPE) and I'm proud to be on the steering group.
These figures show a woeful under-representation compared to the UK population, but it gets even worse when compared to the increasing ethnic diversity within our school population – BAME children make up 33.1 per cent of the school population in England.
As gatekeepers it is beholden on us to ensure that children's literature in our schools, homes, libraries and elsewhere reflects the reality of multicultural Britain – not a homogenous or assimilated Britain but a diverse and harmonious Britain.
Political climate, marginalisation and vulnerability
We live in worrying times. The toxicity of the current political climate renders marginalised communities especially vulnerable. 
Anxiety is increased if you are from a BAME background.
There's been an increase in racist incidents since 2013 and racist incidents doubled after the EU Referendum in June 2016.  In May 2019, 71 per cent of people from ethnic minorities reported having faced racial discrimination, compared with 58 per cent in January 2016.
Institutional racism has resulted in the achievement gaps between students of colour and their white colleagues at university level, as well as a persistent pay gap between BAME and majority White employees that further marginalises them.
Prime Minister Boris Johnson has likened Muslim women who wear the niqab to letterboxes and bank robbers.
The hostile environment created by then-Home Secretary Theresa May, and the Windrush Scandal, have led to people of colour being targeted and marginalised.  
This has had an impact on public discourse and has created a climate of intolerance of the 'other'.
There has been a rise in racism in schools. Only last month, a four-year-old Sikh boy was the victim of racism on his second day in school. , Another child told him that he would be expelled because he had long hair and only girls have long hair!
Breaking down stereotypes with literature
Children's literature has a vital role to play in countering such hostility. 
Our children know what's going on. They see and hear the news. They will hear adults normalising the discourse of hate against Muslims – against people of colour – and they may well see and hear it reflected in school.
All our children need to read literature which has positive BAME protagonists and role models, while BAME children especially need positive role models who look like them and to whom they can aspire whether real or fictitious.  
The Report, notes, '28 per cent of the titles identified as featuring a social justice theme focused on the principal of celebrating difference. This is almost a third within this category. Books of this nature have a valid and important role to play as a stimulus for reflection and discussion. However, it is important that a balance is struck to ensure that BAME presence is not confined to books in which otherness is the underpinning feature.'   
As gatekeepers we have a duty to challenge authors to write stories for children that break down traditional stereotypes and move beyond the BAME character who has suffered racism.
Our BAME youngsters are British. They were born, and are living in contemporary Britain. They span the age, gender and social class spectrum.
We need to reflect this in the literature that they, and indeed all children, consume. How about a story that features a Sikh girl or boy as the hero, for example?
The Reflecting Realities Report is a wake-up call. It reminds us that the world is not Eurocentric and that Britain is a multicultural country. These dimensions must be reflected in the literature written and published for children. It should represent the pupil population in our schools, including those from minority ethnic backgrounds.
Don't they count?
Vini Lander is Professor of Race and Teacher Education at the University of Roehampton.  She is moving to Leeds Beckett University in November 2019 to lead the Centre for Race, Education and Decoloniality and as Professor of Race and Education. Her research focuses on advancing race equality in education, particularly in teacher education. She challenges students and teachers to think differently, supporting them to find ways to act to make a difference. She is on the steering group of Reflecting Realities.
About Amnesty UK Blogs
Our blogs are written by Amnesty International staff, volunteers and other interested individuals, to encourage debate around human rights issues. They do not necessarily represent the views of Amnesty International.
View latest posts