Lighting a candle for Here I Stand
By Sita Brahmachari, author
Here I Stand is a collection of stories and poetry by Young Adult authors standing up for human rights under threat today.
I was honoured to be invited to make a contribution about the plight of children in the UK who work long hours caring for their families, missing out on school and all the carefree freedoms that are the right of every child.
Fiction rooted in truth
The idea to write my story 'Stay Home' was seeded when I sat in a school reception and a young girl of around thirteen arrived late. She said she had been taking her mum to a medical appointment. The receptionist said she would call and check. The girl explained that her mother never answers the phone because she's not confident with her English. 'She needs me to translate.' The receptionist made a note of this and the girl carried on into school. I have often thought of the exhausted looking girl.
The fragility of human rights
It may be tempting to think that human rights abuses take place somewhere else... in someone else's mind, heart or country. Perhaps it is more comfortable to imagine that the struggle for universal human rights has been won in our country. And very often we may take for granted the freedom of speech that allows each of us authors to have written our stories that speak for freedom. But what the tales in this anthology all reveal is the fragility of these rights and the need to be aware that they can be threatened and lost – even in the western world.
When I started researching my story, I was shocked to discover through Daniel Phelps of the Carers Trust that the right to a childhood (enshrined in the United Nations Declaration of The Rights of the Child 1959) is being denied to at least 700,000 children in Britain today as they struggle to care for members of their own families. The Declaration states:
'The child is recognised, universally, as a human being who must be able to develop physically, mentally, socially, morally, and spiritually, with freedom and dignity.'
How writing and reading leads to positive action and change
When we write and read we don't allow our attention to wander from something that is unjust, unfair, or difficult to express. We don't switch off from something we find troubling or unsettling but instead choose to engage and enter worlds that we may have previously had little understanding of or empathy for.
This choice of writing and reading beyond our own familiar world is the beginning of action – during the imaginative process we change our minds and hearts. We step beyond given, pre-conceived and stereotypical stand points. We move beyond a fear of 'otherness'.
Reading Here I Stand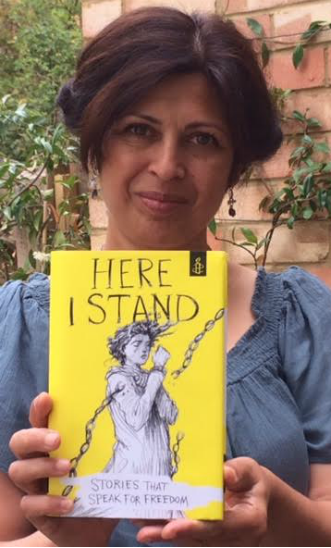 When my copies of' Here I Stand arrived I was excited to sit down and read stories by writers whose work I so admire. I read all of them in one day and felt a kaleidoscope of emotions from compassion and curiosity to anger and outrage and the wish to stand up and act against injustice.
The book in its entirety is an invitation to engage with so many stories concerning human rights violations and erosions, not as bystanders but as participants in change. Wherever the stories are set, they are a reminder of the inter-connected world we live in; that the denial of one person's rights here or in another part of the world has an impact on all of our rights.
There is a refrain through many of these stories and poems that is expressed so clearly in the credo of Neil Gaiman illustrated by Chris Riddell:
'I believe that repressing ideas, spreads ideas.'
Reading these brave, hopeful, poignant, shocking stories made me share this belief all the more strongly. In 'When the Corridors Echo', Sabrina Mahfouz's narrator observes of the young school girl Ayesha: 'She had learnt not to talk with too much voice, as that is something nobody likes.' That is a position of repression that this anthology wishes to blast apart. The authors and their characters speak individually and communally to spark the minds, hearts and spirits of readers at a time when universal human rights are under attack all over the world.
Amnesty's credo shines brightly through all the contributions in this anthology: 'It is better to light a candle than to curse the darkness.
Happy Book Birthday 'Here I Stand'! 
My thanks to Nicky Parker for commissioning 'Stay Home' as part of this collection; to Emma Lidbury at Walker Books for her sensitive editing of the story; Daniel Phelps at Carers Trust; Saimo Chahal (QC) at Bindman's LCC in London for their experience of representing child carers; and Farhana Yamin Yule for Urdu references.
About Amnesty UK Blogs
Our blogs are written by Amnesty International staff, volunteers and other interested individuals, to encourage debate around human rights issues. They do not necessarily represent the views of Amnesty International.
View latest posts