Living in colour: life as a humanitarian nurse and campaigner for refugees
In her mid-50s Alison Criado-Perez transformed her life. She returned to nursing, joined Médecins Sans Frontières (MSF) and began working in humanitarian crises around the world. She explains how what she saw turned her into an active campaigner for refugees.
Joining MSF
Ever since my nurse's training in my 20s, I'd wanted to work as a humanitarian nurse, but never thought it would be possible. My life went in a different direction, the wife of an international businessman and mother. Moving country every few years, learning new languages and starting new lives, made me very adaptable.
The first eureka moment was when my mother was very ill and I nursed her. I thought, I still have something to offer. So I took a Back to Nursing course and started working at Queen's Medical Centre in Nottingham. By chance I met an MSF UK director and he said, 'Do it!'
By then I was divorced, which gave me the freedom to choose my own life. I still didn't think I'd have the guts, but one of my maxims is I only regret the things I haven't done. I took a tropical nursing diploma, applied to MSF, and was offered a position in the Central African Republic.
Working in danger zones
MSF takes staff security very seriously, but there have been tragedies. Being a humanitarian worker no longer offers the protection it used to.
Before the evacuation from Misrata, Libya, I signed a scary risk assessment document. There was a risk of being bombed by Gaddafi's troops or, by mistake, by the UN. Before leaving I actually wrote a letter to my children in case I didn't come back: I said sorry but hoped they understood I was doing something I loved.
Nothing in my life is so rewarding. Someone once said it's like living life in colour, not black and white. When most people hear of the dreadful things happening, they say, 'I wish I could do something.' I'm lucky I can do something.
Coping with trauma
The immense suffering gets me down sometimes. I've often wept at the stories I hear. Psychologists told me about drawings by children from Syria and Libya – of a father being hanged, a woman being raped, a mother beheaded. But I've never felt so overwhelmed I couldn't continue: at the time, you just get on with it.
I remember caring for a young Ebola patient. I did simple things: cleaning out his mouth, giving him water, looking into his eyes, talking to him. He died the next day but I hope I comforted him. Taking Ebola survivors back to their communities was also a wonderful experience.
What my children think
They have mixed feelings – pride, fear and wishing their mum was around. But they support me, though I've been given restrictions. My daughter asked me not to go away while she was taking her finals at Oxford, and they didn't want me to go to Syria or Yemen.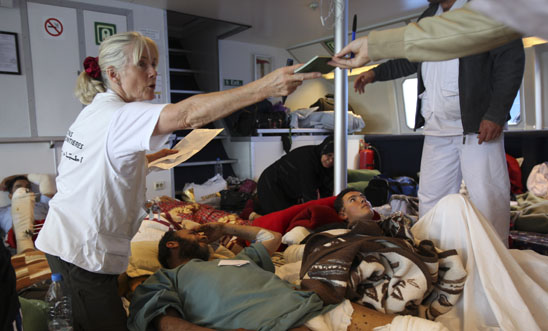 The UK government and the refugee crisis
I think the UK government is doing the right thing in some respects, for example putting money into Syria and the surrounding region. But that's a long-term solution.
The EU-Turkey deal is forcing people back to Turkey, refugees are being forced to take the more dangerous central Mediterranean route, and around 60,000 people are trapped in Greece. The rest of the EU should be offering more help to Greece and Italy.
And Europe is only taking a tiny proportion of Syrian refugees; surrounding countries are taking the most. The UK is taking in 20,000 Syrian refugees, which is good but could be better.
A two-tier system is evolving. What about Eritreans fleeing a repressive government, Afghans fleeing the Taliban, Somalians fleeing al-Shabaab?
Speaking at the Labour and Conservative party conferences
I've worked with refugees in many situations – South Sudan, Turkey, on a Mediterranean search-and-rescue vessel. They said: 'If your house was burning, you jump from a window, even if you might die in the fall'.
I wanted to be their advocate, to tell their stories to people who could make a difference. On the whole, the response from both parties was very encouraging.
What individuals can do
Lobby your local MPs and councils to take in Syrian refugees, as not all councils are doing this. And pressurise Home Secretary Amber Rudd to fulfil the Dubs amendment.
The right-wing press has a lot to answer for. They deepen people's fears, rather than emphasising compassion. We should tell as many people as possible about the reality of the situation. Attitudes change when people hear why refugees risk their lives in the hope of safety. People can also help refugees integrate – giving English lessons, for example.
Advice for changing your life
My advice for people in their 50s and 60s contemplating a complete change of life would be to go for it. I once thought life was more or less over at 50, but have had a fulfilling eight years working for MSF.
About Amnesty UK Blogs
Our blogs are written by Amnesty International staff, volunteers and other interested individuals, to encourage debate around human rights issues. They do not necessarily represent the views of Amnesty International.
View latest posts