Would you want this woman as your best friend?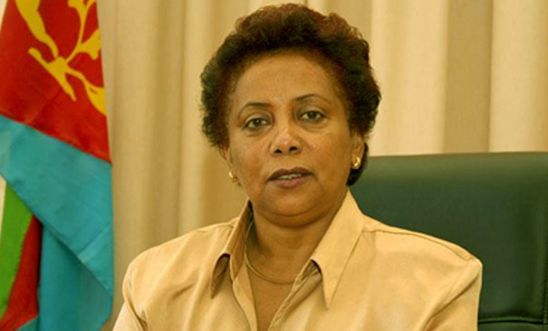 Would you want this woman as your best friend?
This is Fozia Hashim who, since 1993, has been Minister of Justice in the Government of Eritrea, the country in which injustice reigns supreme. However, surely she is more than just a person of power and high position; she is an individual human being with family and friends and all the emotions and personal responsibilities which that involves.
Like so many other Eritreans, Fozia was a Fighter for the Liberation of Eritrea in the 1980s.  However, all of the time was not spent fighting with the Kalashnikov on the front line.  Friendships and relationships developed and so, in 1984 in those remote parts of Eritrea which had been liberated, there was much happiness and celebration when Fozia's best friend, Aster Fissehatsion, married Mahmoud Ahmed Sherifo.  Fozia was there feasting with Aster.
In 1991, the Kalashnikovs were silenced as the Eritreans won their battle followed by the official recognition of the independence of Eritrea in 1993.  Fozia, Aster and Sherifo became important members of the new Eritrean Government and that friendship, forged in the battlefield, blossomed and continued. Perhaps ten years is a very long time!  In 2001 on September 18th, after Aster, Sherifo and other senior politicians wrote an open letter demanding more democratic procedures in Eritrea, all of the signatories who were in the country were arrested.  Since that date no information has been given to family and friends about Aster and the others except, that is, the 'best friend' who is in charge of the whole justice system.
When Aster and Sherifo were taken away and 'disappeared', their 12 years old son, Ibrahim, was left in the care of his grandmother. One day, three years after he had 'lost' his parents, Ibrahim happened to meet Fozia on the street.  Fozia's tears flowed as she said how sorry she was that Ibrahim had 'lost' his parents.  If the tears were genuine, Fozia could have spoken up on behalf of her best friend.  Maybe it is not too late for Fozia to remember the meaning of friendship.  Please write to her and ask her to order the release of her best friend, Aster Fissehatsion.
Write to: The Minister of Justice, Fozia Hashim, PO Box 241, Asmara, Eritrea
For more information about Aster Fissehatsion, see:
https://www.amnesty.org/en/get-involved/take-action/demand-the-release-of-prisoner-of-conscience-aster-fissehatsion/
https://www.bbc.co.uk/news/world-africa-45683700
Alex Jackson,
Country Coordinator for Eritrea,
Amnesty International UK
About Amnesty UK Blogs
Our blogs are written by Amnesty International staff, volunteers and other interested individuals, to encourage debate around human rights issues. They do not necessarily represent the views of Amnesty International.
View latest posts