Syria: six children abducted by the state
Three years ago, Rania Al-Abbassi, her husband Abdulrahman Yasin and their six children Dima, Entisar, Najah, Alaa, Ahmad and Layan were arrested by the Syrian military intelligence authorities. 
As they took the family from their house in Damascus, the officials removed the CCTV cameras from the walls. The family, and any proof of their enforced disappearance, vanished without a trace. Rania's youngest child, Layan, was just two years old.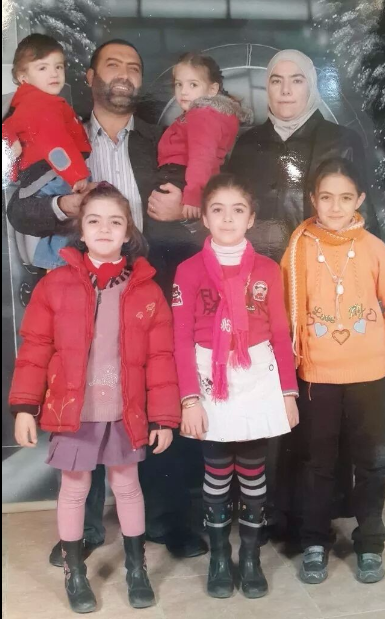 The Al-Abassi family in Damascus 
The Syrian authorities have refused to give Rania's relatives any information about what happened, or where they are now. Rania was a dentist and renowned chess player. Well respected in her community, she was determined to stay in Damascus and help those in need. Her sister suspects that she was taken as a punishment for distributing humanitarian supplies. She and her husband have not been charged with a crime.
Like father, like son
Unfortunately, Rania's story is not unique in Syria, where the blurring of civilians and fighters in the current crisis has led to indiscriminate punishment for all. The tactic of enforced disappearance is in Bashar al-Assad's DNA. It has been a major human rights concern in Syria since the 1970s, when Hafez al-Assad (his father) ruled the country until his death in 2000.
Yet, there has been a dramatic rise in enforced disappearances since the beginning of the crisis in March 2011. The Syrian Network for Human Rights (SNHR) has documented the names of 65,116 individuals – 58,148 civilians and 6,968 fighters – who were subjected to enforced disappearance between March 2011 and August 2015 and were still missing as of 30 August 2015. That's enough to fill Wembley stadium. 3906 of those missing are children.
What can you do to help?
Assad is programmed to use enforced disappearance as a tactic of war - and he is sheltered by allies and tip-toed around by the international community who implicitly condone this practice in the name of sovereignty and geopolitics. Russia and America should instead use their position to force Assad into compliance with international humanitarian law principles to protect all Syrians, particularly those arrested during the war.
We at Amnesty demand an end to arbitrary detention without trial, torture in detention and the detention of children. Please add your voice in support of detained activists and humanitarian workers in Syria.
About Amnesty UK Blogs
Our blogs are written by Amnesty International staff, volunteers and other interested individuals, to encourage debate around human rights issues. They do not necessarily represent the views of Amnesty International.
View latest posts