Elections in Zimbabwe: What You Need to Know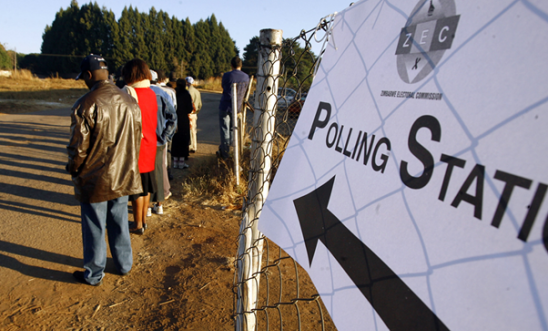 © Desmond Kwande / AFP - Getty Images
By Carla Torres - Country Coordinator for Zimbabwe
Presidential elections took place in Zimbabwe on the 22nd of August 2023 resulting in victory for incumbent president Emmerson Mnangagwa, from the governing Zanu-PF party. Far from peaceful and uneventful, the elections were marked by multiple human rights abuses, including arbitrary arrests, abductions, and torture of opposition party activists.
Here are five things you need to know about the election process and the present situation in Zimbabwe.
The official government party has been ruling Zimbabwe for over 40 years.
ZANU-PF, the Zimbabwe African National Union- Patriotic Front- has been the ruling party of Zimbabwe since its independence in 1980. The party was led by Robert Mugabe who became president in 1987. He was later removed as a leader in 2017, following a coup and replaced by Emmerson Mnangagwa who has now been declared winner of the 2023 presidential elections. The electoral commission had approved 11 presidential candidates to run, including opposition leader Opposition leader Nelson Chamisa, from the Citizens Coalition for Change (CCC).
The elections were marked by human rights abuses.
Cases of arrests, abduction, assault, and torture have been reported during and after the elections. Nelson Mukwenha, a political activist for opposition party Citizens Coalition for Change (CCC), was allegedly abducted and torture by security forces only three days after the elections. On 2 September 2023, Womberaiishe Nhende, who was elected Councillor for Glen Norah Ward 27 in Harare, was also abducted and tortured.
At least 6 died in post-election violence in 2018.
Sadly, this is not the first election in Zimbabwe tarnished by human rights abuses. In 2018, Emmerson Mnangagwa and Chemisa had confronted each other in the presidential elections also marked by political violence. Six people were killed when security officers opened fire on citizens protesting the electoral process. In addition, the EU stated that the final results announced by the Electoral Commission contained numerous errors.
Zimbabwe was suspended from the Commonwealth in 2003 for human rights abuses.
In 2003, Zimbabwe withdrew from the Commonwealth following a suspension for human rights violations. In 2018, the country began the process of rejoining the organization which has been ongoing ever since. Debate continues until this day, since it has been argued that Zimbabwe should not be allowed to rejoin because it does not meet the required standard in respect of its human rights standards, freedom of expression and democratic processes.
Besides human rights abuses, Zimbabwe faces an unprecedented economic crisis.
Zimbabwe's cost of living crisis was also a core issue during the recent elections. In the last year, prices rose by 86,5% while businesses struggled to cope with power outages and a crippled local currency which lost 86% of its value between January and June of 2023. Under Mnangagwa's first term, the economy has shrunk dramatically, affecting local businesses and the working class.
What can I do to help?
Amnesty International UK follows the situation of human rights in Zimbabwe closely. You can take actions by joining our campaigns in support of Zimbabwe and the Southern Africa region.
Visit our website to find out more or get in touch with Carla Torres at carla.torres@amnesty.org.uk
About Amnesty UK Blogs
Our blogs are written by Amnesty International staff, volunteers and other interested individuals, to encourage debate around human rights issues. They do not necessarily represent the views of Amnesty International.
View latest posts