Human Rights Detective - Bite Size Activity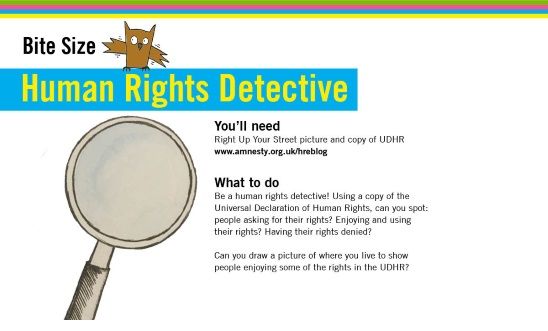 Be a Human Rights Detective
We are all born free and human rights belong to all of us.
Be a human rights detective to find out more about our rights.
Each week we will share more bite size ideas for fun and creative ways to learn about human rights.
You'll need
Right Up Your Street and a copy of the UDHR
https://www.amnesty.org.uk/files/2019-02/Resource sheets - Activity 7.pdf
What to do
Be a human rights detective! Using a copy of the Universal Declaration of Human Rights, can you spot: People asking for their rights? Enjoying and using their rights? Having their rights denied?
Can you draw a picture of where you live to show people enjoying some of the rights in the UDHR?
You can also share it with us by emailing a picture to hre@amnesty.org.uk or using the hashtag #bitesizeHRE 
Amnesty's education work is supported by players of People's Postcode Lottery.
About Amnesty UK Blogs
Our blogs are written by Amnesty International staff, volunteers and other interested individuals, to encourage debate around human rights issues. They do not necessarily represent the views of Amnesty International.
View latest posts