Syria's Children: a Generation without Education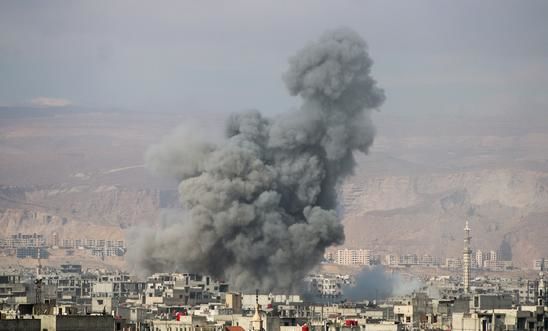 © Eastern Ghouta has been heavily bombarded, including with Soviet-era cluster munitions © Getty Images
By Muntaha Nabi, Children's Human Rights Network
Last year, at a high-level panel discussion at the Human Rights Council, The UN High Commissioner for Human Rights Zeid Ra'ad Al Hussein summed up the Syrian war as "the worst man-made disaster the world has seen since World War II". 
Since the start of the war in 2011, 13 million people have been left in need of humanitarian aid. 6 million people have been left internally displaced while 5 million people have fled Syria. These numbers are expected to rise.
Throughout the conflict, Syria's children have been subjected to numerous human rights violations under international humanitarian law. These include being targeted by indiscriminate weapons, being victims of civilian attacks, becoming separated from their parents through large scale displacements, and their inherent right to life being destroyed. They are being left without basic needs. Thousands have no access to education. 
The right to education
All children have the right to an education. This is enshrined in treaties such as the International Covenant on Economic, Social and Cultural Rights and The UN Convention on the Rights of The Child. Syria is party to both – and before the war 97% of children attended primary school and 70% attended secondary school. 
But the ongoing war has eroded this basic right. We don't need statistics to make us understand the extent to which the conflict has destroyed the ability of children to have access to education and opportunities.
Stolen childhood
Potential doctors, lawyers, engineers, activists, teachers, scientists have been forced to stop dreaming and accept a horrific situation no child should find themselves in. Young boys are joining armies to fight in a war where peace is out of sight, and young girls are being exploited as sex slaves. This brutal war has stolen an entire generation of education and childhood from those caught up in it. 
Furthermore, schools are being attacked and used as military targets by both governmental forces and the U.S. backed coalition. When a school becomes a target instead of a place of sanctuary for children to learn, we must ask ourselves how things have been allowed to get this far.
We need answers for Syria's children
Considering the United Nations Commissions of Human Rights' High Panel Discussion on violations of rights against Syrian questions, there are a few questions which should be addressed:
1) How do we answer to the fact that an entire generation of children have been left without access to education?
2) What will become of the Syrian socio-political and economic infrastructure if the future of Syria – the country's children – are not able to contribute to society due to the educational barriers? 
3) How will we deal with problems of intersectionality? For example, these educational barriers are likely to affect girls differently to boys. What do we need to do to create specific solutions?
4) How can the United Nations facilitate host countries to enhance the quality of education given to refugees?
5) When will the international community take an active role to initiate peace processes in order to stop the conflict? 
6) When will states decide that the United Declaration of Human Rights, which was created with the intention to ensure atrocities taken place in World War II do not occur again, actually does count for something?
Finding a way forward
Dialogue on the human rights situation in Syria must continue. It is a positive step towards ending the conflict for future generations. 
However, we also need a more active role to be played by the international community. We need to show that the human rights of children – and all Syrians – really matter. These actions could include sanctions, pressuring the Security Council to refer the situation to the International Criminal Court, and continuing to assist civilians either through providing aid or taking in refugees. 
Passive debate on potential solutions is not enough. We must send a clear message that the injustice being done to Syria's children is unacceptable. They should have the freedom, and the human right, to finally live – not just to survive. 
About Amnesty UK Blogs
Our blogs are written by Amnesty International staff, volunteers and other interested individuals, to encourage debate around human rights issues. They do not necessarily represent the views of Amnesty International.
View latest posts