Israeli ill-treatment of detained Palestinian minors must end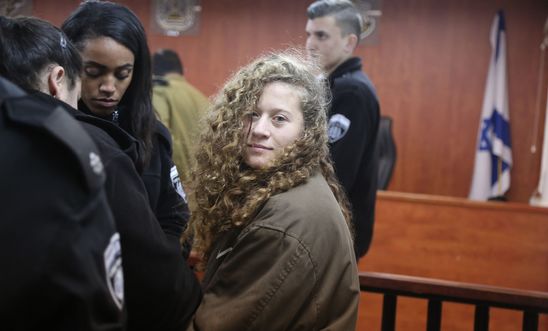 By Rebecca Carr, committee member of the Children's Human Rights Network
While the case of Palestinian teen activist Ahed Tamimi has conjured significant international media attention, her case is not unique. According to Israel Prison Service (IPS) statistics published by Israeli anti-occupation organization B'Tselem, Israel is holding over 300 Palestinian minors in prison. Just like Tamini, an alarming proportion of those minors are being held in detention until the end of legal proceedings, without having been convicted. 
Children tried in military courts
Israel is the only country in the world that automatically prosecutes children in military courts that lack fundamental fair rights and guarantees. 
The systematic ill treatment and torture of Palestinian children has been widely documented in recent years, with Amnesty International finding that Israeli forces had "tortured and otherwise ill-treated Palestinian detainees, including children, particularly during arrest and interrogation", with methods including "beating with batons, slapping, throttling, prolonged shackling, stress positions, sleep deprivation and threats."
Excessive use of force on minors
One prominent case that received widespread attention was that of Fawsi al-Junaidi. The image of him being dragged by more than 20 soldiers while blindfolded in Hebron went viral, eventually becoming an icon for Israel's use of excessive force on Palestinians.
For Tamini, reports suggest that she has already encountered similar ill treatment while detained. According to Tamini's lawyer, the teenager is said to have "faced long and aggressive interrogation sessions – sometimes during the night – and he interrogators have made threats against her family members."
Speak out against this unacceptable treatment
Such widespread, systematic and institutionalised ill treatment of Palestinian children must end. One can only hope that the added media attention surrounding Ahed Tamini kick-starts a tougher stance from the international community towards Israel on its unacceptable treatment of detained Palestinian minors. 
To find out more about Ahed Tamimi's case and take action, click here. 
About Amnesty UK Blogs
Our blogs are written by Amnesty International staff, volunteers and other interested individuals, to encourage debate around human rights issues. They do not necessarily represent the views of Amnesty International.
View latest posts