I won the "Use Your Voice" competition - and ended up at the UN!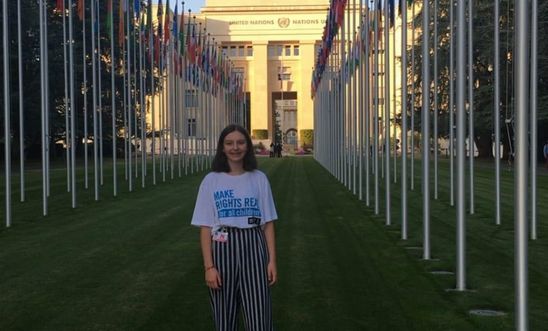 Me (Eilidh) at the UN with the Children's Human Rights Network
Blog by Eilidh Lynn, 15 at the time of winning 2019's 'Use Your Voice' competition.
Last year I submitted an essay to the 'Use Your Voice To Demand Your Rights' competition run by the Amnesty UK Child Rights Network. I chose to write about a child's right to healthcare, through mandatory vaccinations in the UK.   
Through winning the competition - this essay gave me the chance to visit the United Nations Headquarters in Geneva with Amnesty UK Children. We attended the 82nd session of the Committee on the Rights of the Child to celebrate the 30 year anniversary of the creation of the UNCRC. To acknowledge this, countries made pledges focused on tackling and improving child rights issues. We then visited the UN office of the high commissioner for human rights, where I met other young people from all over the world also attending the conference.
After gaining knowledge on various child rights issues and becoming familiar with the Convention on the Rights of the Child I brought this knowledge back to my school. I presented assemblies to every year group and a primary school. In these presentations I talked about my experience, the contents of the CRC and which articles were most relevant to my peers, ensuring they were aware of their rights. On top of this I talked about Amnesty UK Children's citizenship campaign and encouraged pupils to join the Amnesty club at my school.   
I can confidently say, this was one of the most valuable experiences of my life. It was so humbling to attend a conference at the United Nations and it was amazing to meet like-minded individuals. It opened up my eyes to the world, all the possibilities and influence young people hold. We are the future.
About Amnesty UK Blogs
Our blogs are written by Amnesty International staff, volunteers and other interested individuals, to encourage debate around human rights issues. They do not necessarily represent the views of Amnesty International.
View latest posts