Gross violation of the right to life in Syria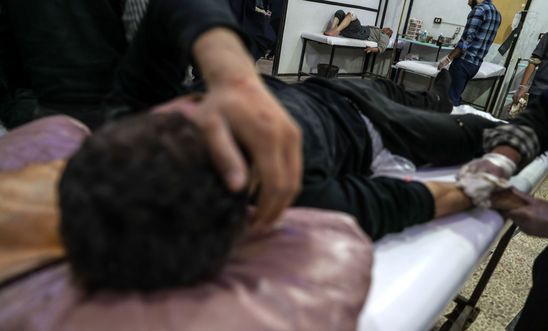 By Nikita Cowlagi, Children's Human Rights Network
There can be no denying the fact that the right to life is a human right which cannot be compromised. According to Article 3 of the Universal Declaration of Human Rights, 'Everyone has the right to life, liberty and security of person'. 
Despite many international charters of rights declaring the above, days have become a living nightmare for many Syrian children. As if their lives weren't abnormal enough, these children are now unsure about whether they will exist even for a day. They urgently require medical evacuation as conditions continually worsen; most of them need to be treated for their deep and ghastly wounds, as well as be cured of severe malnutrition. This is particularly the case in Syria's Eastern Ghouta.
Education denied
Syrian children have also been denied the right to education due to the destruction of schools. When asked about the happenings, civilians revealed that class timings were shortened to only 3.5 hours/day to keep the children safe. When or where bombs/mortars will explode, nobody is certain. These inhumane attacks have not spared kindergartens and elementary schools (in the towns of Saqba and Hamouriyeh) as well. 
The main culprit for this massacre are the Syrian-Russian forces. The Annual Report for Most Notable Violations of Human Rights in Syria in 2017 states that 10,204 civilians were killed at the hands of the parties to the conflict. Notable violations include those against medical personnel – there were 101 attacks on medical points and facilities. 
Further action is needed
After knowing this, it is imperative that we, as global citizens, act immediately.
At the international level: the UN Security Council is urged to take strong actions against the perpetrators of justice. An investigation into this conflict must commence as soon as possible to hold those responsible to account. All forms of support to these forces, particularly the supply of weapons, should be ceased. 
At the military level: The Russian regime has caused much destruction; it should rebuild damaged centres (particularly educational and medical) and try its best to compensate for the losses it has caused Syria, especially to Syria's children. 
About Amnesty UK Blogs
Our blogs are written by Amnesty International staff, volunteers and other interested individuals, to encourage debate around human rights issues. They do not necessarily represent the views of Amnesty International.
View latest posts