Syrian torture survivors are fighting back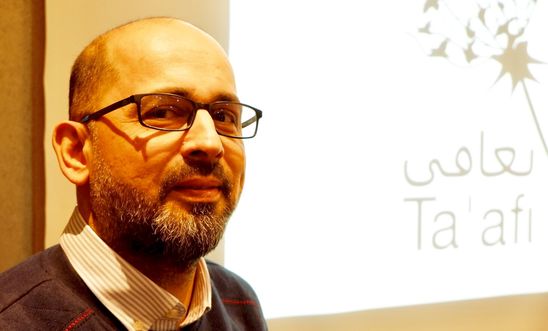 Riyad Avlar © Kristyan Benedict
By Kristyan Benedict - AIUKs Crisis & Tactical Campaigns Manager. Twitter - KreaseChan
"What is a laptop?"
The man I was sitting with just off Taksim Square in Istanbul asked this apparently bizarre question after experiencing his new found freedom.  
The man in question - 40-year-old Riyad Avlar - had been released from one of Bashar al-Assad's nightmarish prisons after a soul-destroying 21 years. Locked away for more than two decades, Riyad hadn't seen these slim portable computers that people supposedly put on their "laps".
He spent the first 15 years "disappeared". None of his family and friends knew where he was, other than "somewhere in Syria". For five of those lost years he was in a notorious site of torture and death, Saydnaya military prison north of Damascus, a truly horrific place about which Amnesty has written at some length. It almost goes without saying, Riyad was tortured throughout his long years of detention.
So what was Riyad's "crime"? It was merely this: writing about another notorious prison in Syria's huge network of fear - Tadmur, once known as "the worst prison in the world". He'd gone to Syria from his home country Turkey to learn Arabic, and was only 19 when apprehended by the authorities. Unfortunately for him, they'd intercepted an article he'd posted back home.
As we sit in a hotel meeting room and Riyad tells me about his capture, detention and torture, Ahmad Helmi, from the Syrian human rights initiative Ta'afi, remarks that Riyad's Arabic is impeccable but his pronunciation is the same as the prison guards. Most of the Arabic he'd heard in Syria had been spoken by prison guards or fellow inmates - it was a strange way to learn a language.
Ahmad's darkly dry humour is not unusual among Syrian activists fighting for justice for people like Riyad. It's something you regularly see among people who've survived a human rights ordeal - it's humour as resistance, humour as a tool for justice.
Ahmad and Riyad will need this humour and much else in their ongoing quest for justice. For most of those affected by the catastrophe in Syria during the past eight years - the jailings, then "disappearances", the murders, the barrel bombings, the sieges, the flight from home and country - justice remains little more than a dream. Yet, little by little, it's becoming more tangible.
Ahmad and Riyad are playing their part. They're providing international investigators with valuable information about their time in prison (Ahmad also spent 3 years in jails in Syria and was also tortured). The information is being carefully assembled as evidence for future cases - some amounting to crimes against humanity - which international human rights lawyers hope to bring against members of the Syrian authorities.
I was in Istanbul to review Ta'afi's strategic plans and tactics, having been with them a year earlier in Beirut to help develop those plans. They're totally committed to the task of assembling evidence from fellow Syrian torture survivors to ensure it can be used to help hunt down the perpetrators and those that gave the orders.
Riyad is not just a survivor - he's also co-founder and coordinator of the Association of Detainees & The Missing in Saydnaya Prison. His own story is one which must be told, but he and former Saydnaya detainees are determined that their testimonies will also be put to use. They want their stories to help bring their torturers to justice. We at Amnesty will do all we can to ensure this happens.
About Amnesty UK Blogs
Our blogs are written by Amnesty International staff, volunteers and other interested individuals, to encourage debate around human rights issues. They do not necessarily represent the views of Amnesty International.
View latest posts