Peterloo was part of Britain's long walk to liberty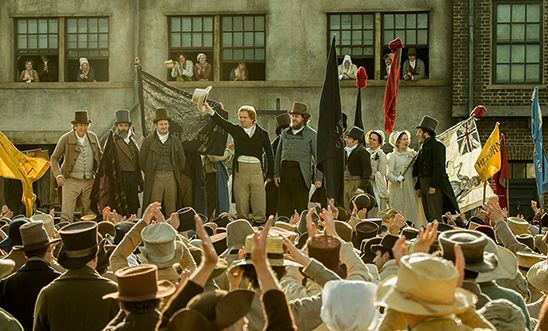 © Photograph: Simon Mein, Flim4, BFI, Thin Man Flims
Written by Felix Jakens,
In cinemas across the UK this week, audiences will watch the story of the Peterloo Massacre retold, recalling the events of 1819 when peaceful protesters in Manchester asking for the vote were attacked by armed soldiers on horseback. It's a harrowing tale often referred to the most violent state massacre on British soil of the past two centuries. 
 
It's important to acknowledge that even worse horrors have been committed beyond Britain's shores: the machine-gunning of independence activists in Amritsar, India for example which occurred in the centenary year of events in Manchester. Others might draw a comparison with Bloody Sunday in Northern Ireland in 1972, or indeed events in South Africa in 2012 when mineworkers for a British-owned company were shot down by the police after going on strike for a reasonable wage.    
In a way though these moments echo milestones in an even older story, of the long slow walk towards liberty, which we've been part of for more than 800 years. 
We could begin in 1215, when barons rebelled against the King and met to negotiate at Runnymede, agreeing amongst other things, the right to a measure of liberty . That document – The Magna Carta – is part of the foundation of the rule of law in this country, although it took 80 more years of struggle until it was enshrined in to law, in part because the King had it annulled not long after it was agreed.  
In 1381 there was another revolt – this time by peasants – who demanded rights and freedoms which were promised them by the King to hold back their advance, who went so far as to declare himself leader of the movement. Once the peasants had dispersed he reneged on his promise. 
Jumping forward to the seventeenth century, the English Civil War is sometimes cast as a struggle between parliamentary liberty and the oppression of the monarchy. But the idea of extending the vote even only to all members of the male sex, was considered by Oliver Cromwell as tantamount to anarchy. At debates in organised at Putney, reformers demanded freedom of worship, equality under the law and an end to the flagrant use of the death penalty. All these things would be won eventually, but in some cases not for three centuries. In the immediate term many steps forward were reversed when Charles II was returned to the throne.
And so it continues through history. In the 1790s Mary Wollstonecraft and Tom Paine wrote about the rights of women and men respectively, in response to the rights-language being used by movements in America and France. But beyond her circles Wollstonecraft was disregarded and Paine was forced to flee the country. Passing sentence on the organisers of a conference around the same time to explore extending the vote, Judge Braxfield opined that the constitution is "the best that ever was since the creation of the world and it is not possible to make it better".
 
And all of this before the events depicted in Mike Leigh's film. His protagonists did not win the change they campaigned for immediately, but eventually – through three reform acts – they were vindicated by history. Some campaigners for the vote made the links between their own oppression and international injustice, and joined alliances with formerly enslaved people and religiously inspired peacemakers to campaign against slavery over the course of a generation, until it was outlawed.  Some women within that movement demanded the extension of the ballot to women, which began to be granted in 1918.
So what does this mean for us today? I imagine you have already detected a pattern. On the whole those people with unchecked power don't like having their power checked. Concessions are often made when the pressure is on, which then get unmade when the pressure is taken off. Sustaining and extending our hard-won rights requires constant public explanation and consolidation of what has been achieved, and urgent action to progress where we need to. 
 
Our present-day Human Rights framework was established after the extreme human rights abuses of World War Two as part of the promise of 'never again'. In 1998 the UK's Human Rights Act brought many of those rights home by putting a legal requirement on every public body to respect people's rights, and also played a role in Northern Ireland's Good Friday Peace Agreement. 
From the rebels of Runnymede to the people of Peterloo, I'd like to think that if the changemakers of the past were around today, they would raise a smile that our Human Rights Act enshrines so many things they between them struggled for. But I don't think they would be surprised either, that the Act has faced efforts to undo it. 
If there's one thing to learn from history it's that we cannot take our rights for granted, and there is still a long way to go until all people of the world enjoy all our rights as human beings. 
We are still very much on our long walk to liberty. 
The Human Rights Act protects:
Right to a fair trial 
No punishment without law 
Respect for your private and family life, home and correspondence 
Freedom of thought, belief and religion 
Freedom of expression 
Freedom of assembly and association 
Right to marry and start a family 
Protection from discrimination in respect of these rights and freedoms 
Right to peaceful enjoyment of your property 
Right to education 
Right to participate in free elections 
Abolition of the death penalty
About Amnesty UK Blogs
Our blogs are written by Amnesty International staff, volunteers and other interested individuals, to encourage debate around human rights issues. They do not necessarily represent the views of Amnesty International.
View latest posts