Indefinite detention: An endless time loop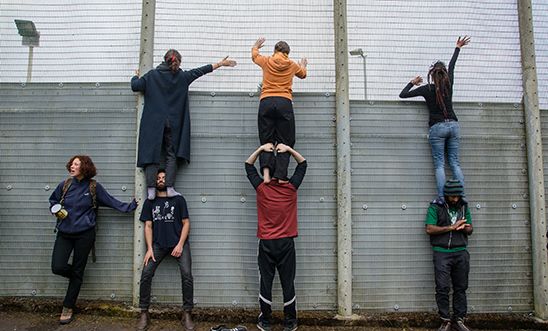 DUNGAVEL DETENTION CENTRE, STRATHAVEN, SCOTLAND, 7TH MAY 2016 - Protesters standing on each others shoulders to look inside the detention centre and talk to the people inside © JJFD Photography/Shutterstock
---
This blog was written by Mishka from the Freed Voices group. Freed Voices is a group of experts-by-experience dedicated to speaking about the realities of detention and calling for radical detention reform. Mishka writes under a pseudonym. Guest blogs views do not necessarily reflect Amnesty's own.
---
Not knowing how long you are going to be detained has a major impact on mental health.
People with first-hand experience of immigration detention often say, "indefinite detention melted my brain", "in detention you count your days up", and "indefinite detention is mental torture". 
It feels like you are stuck in an endless time loop or some sort of eerie maze with no end in sight. 
This is an ongoing human rights scandal that pushes people over the edge and this practice can no longer continue.
Time for a time limit
The UK has no time limit on how long a person can be held in immigration detention. On average, around 25,000 people are locked up in high-security prison-like conditions every year. They are detained indefinitely simply on the orders of Home Office staff, with no judge or trial.
This is why many NGOs, human rights organisations including Amnesty International, legal professionals, medical bodies, as well as people with the first-hand experience of detention, are determinedly campaigning and calling for a time limit for everyone in immigration detention.
Over the past few years, the calls for a time limit have gained a considerable amount of momentum: more people are talking about this issue, there is mounting public support and now, there is wider media attention covering the incalculable human impact as well as the financial wastefulness of indefinite immigration detention.
Recently, the Joint Committee on Human Rights (JCHR) and the Home Affairs Select Committee (HASC) also strongly endorsed a 28 day time limit through their inquiry reports related to immigration detention. This is exactly what we need in the present situation: the government can no longer plead ignorance towards this issue or justify this ongoing human rights scandal by misleadingly claiming the 'the law does not allow' indefinite detention.
Growing cross-party support
In a time period where parliamentarians are politically divided around many issues, it is great to see that there is growing cross-party support to implement a time limit on immigration detention.
This was quite apparent during the second reading and committee stages of the ongoing Immigration and Social Security Co-ordination (EU Withdrawal) Bill. Many MPs are currently working hard to include a 28 day time limit amendment in this bill and it has cross-party support from parliamentarians from all major political parties.
With enough support this could be a great opportunity to finally secure a time limit on immigration detention; a key reform step that will end the trauma of indefinite detention for thousands of people every year. 
---
Indefinite detention is a reality experienced by thousands of people every day. The UK government has the power to change this. Please urge them to act - sign Amnesty's petition here.
About Amnesty UK Blogs
Our blogs are written by Amnesty International staff, volunteers and other interested individuals, to encourage debate around human rights issues. They do not necessarily represent the views of Amnesty International.
View latest posts