Saudi Arabia wants to do this deal with the Premier League as a PR tool to help cover up its abysmal human rights record.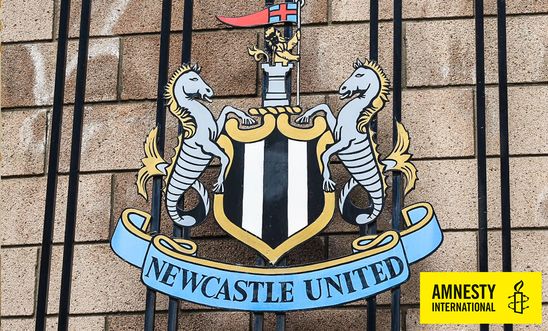 Newcastle United F.C
By Newcastle fan, Stephen Cockburn, Amnesty International's head of Economic and Social Justice
As a lifelong Newcastle United fan, my first thought when I heard about the potential takeover of the club by Saudi Arabia's Public Investment Fund was to reach for the words of Sir Bobby Robson in one of football's most beautiful quotes:
What is a club in any case? Not the buildings or the directors or the people who are paid to represent it. It's not the television contracts, get-out clauses, marketing departments or executive boxes. It's the noise, the passion, the feeling of belonging, the pride in your city. It's a small boy clambering up stadium steps for the very first time, gripping his father's hand, gawping at that hallowed stretch of turf beneath him and, without being able to do a thing about it, falling in love.
 
I was that small boy gripping his dad's hand for their first game, at St James' Park in 1988. I grew up going to matches in the eras of Keegan and Sir Bobby. Like every fan, I'm aching for things to change. I desperately miss the days when Asprilla slayed Barcelona, Philippe Albert humiliated Man United or Andy Griffin silenced Juventus.
 
From a fan perspective, there's no doubt the Mike Ashley years have been grim. It's not just the relegations or the underinvestment - it's the surrender of hope. It's our identity becoming a commodity. The feeling that our club has become grubby - that we don't mean anything.
 
So when fans are excited about change, you can't be surprised. Life is simply better when supporting Newcastle is a joy and not a chore. But as Bobby Robson reminds us, football is not just about winning trophies - it's also about meaning something.
 
And that's why this takeover stings. For what Saudi Arabia wants to do with this deal is turn the pride and passion of our club, and the glamour of Premier League football, into a PR tool to help cover up its abysmal human rights record. Its jailing of peaceful activists, its torture and mistreatment of detainees, the mass executions (at least 184 last year), its bloody record in Yemen, its bullying and defiance of international human rights norms.
 
Simply put, this is 'sportswashing' - in black and white. Just one part of Saudi Arabia's very aggressive move into top-tier sport as it seeks to rebrand the country - no longer a "kingdom of cruelty", now a sponsor of elite football, cycling, golf, horse racing and much more.'
 
Newcastle fans may feel they have no power in this, and it is perfectly fair to say this is not our fault. This is a private deal between a British boss and a foreign power. Ultimately, it's the sporting bodies that need to do much more to protect human rights and keep the game clean. But fans do have a choice about how we react, and whether or not we let this sportwashing succeed.
 
When Argentina's dictatorship used the 1978 World Cup for its own propaganda, Amnesty campaigned to highlight those who'd been 'disappeared' by the junta. When Qatar won the right to host the 2022 World Cup, Amnesty put the spotlight on its appalling treatment of migrant workers. Things for Qatar's enormous number of overseas workers have slowly begun to change, though there remains much to do.
 
It may not be for Amnesty to say who owns a football club, and it should not be for fans to shoulder the blame, but we can try to break the spell of sportswashing if we decide to speak out. 
 
That's one way we can keep that sense of pride, that feeling of belonging, that belief. The enduring hope and dream that football can mean something more.
About Amnesty UK Blogs
Our blogs are written by Amnesty International staff, volunteers and other interested individuals, to encourage debate around human rights issues. They do not necessarily represent the views of Amnesty International.
View latest posts