The one thing you need to know about the European Convention on Human Rights (ECHR)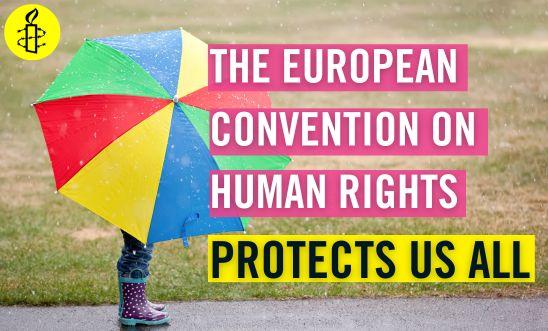 We all want a society where our families' rights are protected by the law.
It's simple: the European Convention on Human Rights (ECHR) protects us all.
We all want a society where our families are protected by the law.
No matter our postcode, where we come from or what we look like, in the UK the ECHR protects everybody's rights. It is an umbrella for a rainy day. But in their quest to divide us, some people in this government are following a dangerous path to let the storm rage. We cannot let them.
When was the ECHR introduced in the UK?
The ECHR came into force 70 years ago today, on 3 September 1953. The UK was one of the countries that drafted it and one of the first to sign it. Some people in power right now want to leave it, precisely because it protects everybody. This makes it harder for the Government to attack the most marginalised people in our society. But when the Convention protects one person's rights, it protects us all.
Throughout the years, the ECHR has protected many of the rights we take for granted today. It has been integral to the full decriminalisation of homosexuality, to corporal punishment being banned in schools  and forcing the Government to criminalise modern slavery. Leaving the ECHR would breach the Good Friday Agreement, undermining peace in Northern Ireland, and it would hit the most vulnerable of us the hardest, including elderly people, disabled people and victims of crime. Our values as a society are protected by the ECHR.
Did you know: there are only 2 countries that have left the ECHR: Greece during military rule in 1969 and Russia, which was expelled after its illegal invasion of Ukraine.
Do we really want to be in their company?
What is the role of the the ECHR in the UK today?
Recently, from seeking justice for child survivors of human trafficking, to protecting survivors of domestic abuse, and seeking to curb the excesses of surveillance, the European Convention on Human Rights keeps contributing to a free and fair society. The ECHR keeps the Government accountable to uphold our human rights. Those in power should be held to account: it's that simple.
Here are 5 crucial times the European Convention on Human Rights has protected us all, just in the last few years:
1️⃣

Protecting the rights of domestic workers
Benkharbouche and Janah v. the United Kingdom (September 2022)
Two Moroccan women were employed by the Sudan and Libyan embassies in London as cleaners and domestic workers. Both were unfairly dismissed, didn't get the minimum wage, and didn't get minimum paid time off. Their employers, however, claimed immunity from the UK courts because of the State Immunity Act 1978, which gives immunity to foreign states from many UK laws, including some employment laws. The women won over £50,000 each in damages for discrimination and breaches of their right to a fair hearing. In the end the government was forced to change the law.
2️⃣

Protecting us all from government surveillance
Big Brother Watch v UK (May 2021)
NGOs and journalists successfully challenged the UK government's surveillance powers. This included the 'bulk interception' first revealed by Edward Snowden in the US, and communications data obtained directly from internet and phone companies. The Government was found in breach of our rights to privacy and to freedom of expression, because of a lack of proper legal safeguards and protections for journalists' sources and material.
3️⃣

Protecting child survivors of human trafficking
VCL V UK (February 2021)
Two Vietnamese children who were trafficked into the UK as minors and forced to work in cannabis factories were wrongfully arrested, prosecuted and sentenced to 18 and 20 months detention. Their prosecution and sentencing happened even though the police, CPS and the courts knew they were children and likely to be victims of human trafficking. The European Court ruled that the UK had violated their rights not to be subject to slavery or forced labour, and right to a fair trial.
4️⃣

Protecting the rights of domestic abuse survivors
JD&A v UK (October 2019)
A survivor of domestic violence was unfairly treated because of conflicting Government policies. When the Government made changes to Housing Benefits, her benefits were cut because she had converted one of her bedrooms into a safe 'panic room' to protect her and her child from a highly dangerous former partner. However, she had done this as part of a Government-backed 'sanctuary scheme'. Caught in the middle of these conflicting policies, she could no longer afford the rent and was facing threats of eviction. The ECHR protected her right not to be discriminated against as a survivor of domestic violence and allowed her and her child to stay in their home.
5️⃣ Protecting our right to stand up for what we believe in
Catt v UK (April 2019)
An elderly man, who protested against a local arms manufacturer and was arrested but never prosecuted, was placed on an 'extremism database' by the police. It turned out that information about his participation in other peaceful protests had been documented and retained by the police for years. When he asked to have the information deleted given he had never been charged with a criminal offence, the police refused. He brought a case against the police and won. It ruled that police retention of peaceful protesters' data in this way was a violation of their Article 8 right to privacy under the ECHR.
The ECHR is key to building a society that is free and fair for all, protecting those who are most vulnerable and keeping the Government accountable.
About Amnesty UK Blogs
Our blogs are written by Amnesty International staff, volunteers and other interested individuals, to encourage debate around human rights issues. They do not necessarily represent the views of Amnesty International.
View latest posts