Inhumane, Racist, and Divisive: 5 Things You need to know about the Immigration bill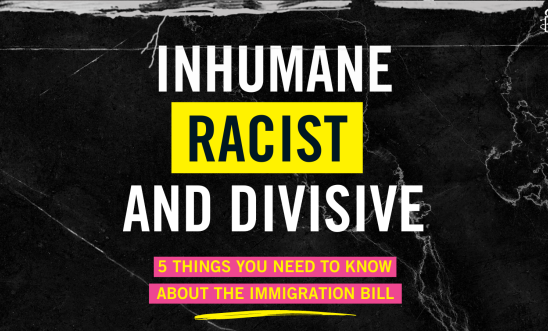 If you're concerned about the UK's latest immigration bill, you're not alone. The bill has sparked outrage and is inhumane, divisive, and racist. It carries far-reaching consequences that threaten to dismantle our asylum system and deny vital human rights protections to vulnerable people in our society. With so much at stake, it's essential to understand the key issues at hand.
Here are 5 reasons to resist the bill:
The bill is inhumane, divisive and racist
The UK government's blame game has fuelled a dangerous and racist narrative, resulting in violent attacks, all while ignoring humane solutions and perpetuating a culture of hate.
Rather than finding humane and effective ways to fix the system, the government is blaming human rights laws, lawyers, and the people who are suffering from its failures. The Home Secretary, Suella Braverman, claimed it was her "dream" to expel refugees to Rwanda, and described the arrival of refugees via the English Channel as an "invasion". People held in one of her reception centres were the subject of a firebomb attack in the very same month and racist and violent protests have begun to spring up outside hotels believed to be accommodating asylum seekers.
These acts of violence are the result of decades of hostile policies and hateful language towards people fleeing persecution and people who come to the UK for other reasons. Divisive language from the Home Secretary and others are being used to turn people against each other for political gain.
The bill is based on lies and misinformation
The bill is based on lies and misinformation - almost all of the claims the government has made to justify this bill are false.
Harsh asylum and immigration policies do not deter people from making dangerous journeys, indeed, the Home Office's own research contradicts this. The backlog of cases the government points to as another reason for cracking down has been entirely created by its own decisions to refuse to process those claims. The Home Secretary has spread nonsensical scare stories about the numbers of people trying to come to the UK and blamed people for failing to take safe and legal routes that do not exist.
The Home Secretary has also said that people arriving through the English Channel are not entitled to international protection, but that's not true - the government's own information shows that most of them are refugees or victims of trafficking and they have the right to stay. She also said that the UK will detain and deport anyone who comes without permission, but there aren't enough places to keep or send people away. So, while some will be subject to the brutalities of prolonged detention and forced expulsion, the majority will simply be left in limbo here; permanently excluded from lawful status and wider society.
The bill exists in a make-believe land, unsupported by evidence or fact.
The bill will damage people and communities across the UK 
Being stranded in the UK without lawful status is a disaster for people, families and communities. Without lawful status, people can't legally work, support themselves or access benefits. This will lead to children growing up in poverty, missing out on education opportunities, and being excluded from citizenship rights. Most of all, it'll create an expanding underclass of society that is vulnerable to exploitation and abuse from those who take advantage of their situation.
The bill Is a Charter for Exploitation
Under this bill, if a person arrived in the country without prior permission, the Home Office is required by law to attempt to remove them from the country, regardless of their situation or why they are here. This means that people will be forced into the shadows of society, avoiding contact with authorities or institutions that might expose their status. This makes it easier for exploiters, abusers and traffickers to take advantage of them. They will use this law to prey on their victims, who will feel helpless and alone.
This bill will enable abuse, exploitation, and trafficking to thrive by weakening the UK's anti-trafficking protection system and undermining the broader human rights framework it is built on.
The bill will dismantle vital human rights protections and set up a fight with the ECHR
The UK government is trying to prevent people from challenging their decisions in court and undermine human rights protections with the new bill.  Suella Braverman has even admitted to her own MPs that the bill probably doesn't comply with human rights standards. It will effectively switch off a key part of the Human Rights Act, preventing judges from interpreting it in line with human rights standards.
This move will allow the government to suspend major elements of the country's human rights protection system, which will be a disaster for universal human rights. The bill will set up a direct conflict with the European Court, putting the UK in breach of the Human Rights Convention and leading to the country leaving the European Convention altogether.
This is a dangerous path, as the bill will silence our courts and give Home Office officials free reign to treat vulnerable groups, such as those seeking asylum or victims of trafficking, in ways that violate their human rights.
Your Voice Matters: Take Action Now
It's essential that we all take action to oppose this harmful legislation. You can start by contacting your MP, joining a local campaign group, or adding your name to our collective action here.
We all have a responsibility to protect the human rights of everyone - join us in speaking out against this cruel new immigration bill. Take action now and join us in speaking out against this cruel bill. 
About Amnesty UK Blogs
Our blogs are written by Amnesty International staff, volunteers and other interested individuals, to encourage debate around human rights issues. They do not necessarily represent the views of Amnesty International.
View latest posts