6 Human Rights Wins so far in 2023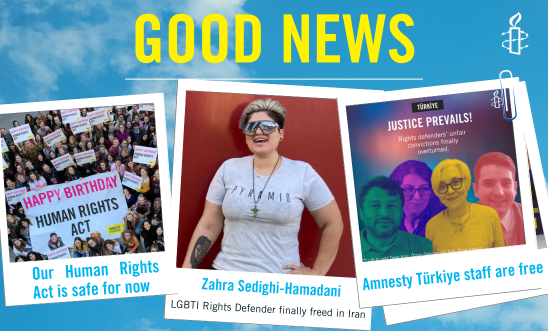 Human Rights CAN win: don't let anyone tell you different.
The last few years have been tough. In the UK and around the world our rights are being eroded. But that's only half the story. The other half: when we come together, human rights can triumph. 
Here are 6 ways humanity has won in the past 6 months: thanks to many of you!
1️⃣ LGBTI Rights defender freed in Iran
Iranian activist Zahra Sedighi Hamadani faced the death sentence in 2022 for supporting LGBTI rights. Thousands of you rallied calling for her release, and after more than a year behind bars - she is now free.
2️⃣ The UK Government's Rights Removal Bill scrapped
Finally the UK Government have officially scrapped the Rights Removal Bill. The bill would have ripped up our Human Rights Act - a blatant power grab to give people in power MORE power. Following years of campaigning and thousands of you taking action, it's finally been scrapped.
3️⃣

 Human rights defenders and Amnesty staff in Türkiye freed 
In Türkiye, human rights defenders and Amnesty Türkiye staff, including Taner Kılıç and Idil Eser, finally had their baseless and politically motivated convictions quashed in June after years of legal harassment.
4️⃣ Rwanda plans ruled unlawful
In the UK, a Court of Appeal ruled that plans to send people seeking safety to Rwanda are unlawful. This judgement is welcomed, but it can't undo the  harm already caused by the Government. Ministers should stop playing politics with people's lives.
5️⃣ Win for Justice for Syria at the UN
The UN General Assembly voted to set up a new body aiming to reveal the fate of over 100,000 people missing or forcibly disappeared in Syria - a victory after years of Syrian survivors campaigning to demand justice and truth.
6️⃣ UN Human Rights Award to campaign for a healthy environment
A coalition of Indigenous peoples' organisations, social movements and human rights organisations (including us), won the UN Human Rights Award! Together, we will continue campaigning tirelessly to have everyone's right to a healthy environment universally recognised.
None of the above would have been possible without you- thank you for taking action, donating and sharing throughout the past 6 months.
About Amnesty UK Blogs
Our blogs are written by Amnesty International staff, volunteers and other interested individuals, to encourage debate around human rights issues. They do not necessarily represent the views of Amnesty International.
View latest posts