REBELLION – so much more than a cute t-shirt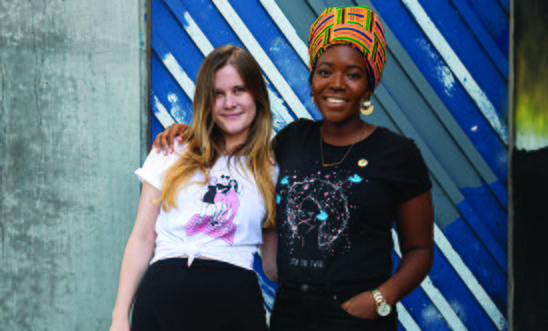 Models are wearing t-shirts from the REBELLION collection © Claudia Roche
Art is so nourishing for activists. It contributes to encapsulating the issues we are passionate about and the transformation we want to see. It supports us when times are tough, gives shape to our triumph and helps us commemorating the people, places, times that are important to our cause and our communities. As feminists we work to change minds and that's why art is so powerful. It allows us to reach across cultures, language and political divides. It opens up possibilities for dialogue and transformation.
In the current times, which often feel so desperate and draining, artists are sustaining our activism and imagination. Artists such as the Fearless Collective who travel the world to paint huge murals with local activists to expose gendered politics, injustice and celebrate resistance and activism. I was really privileged to be part of a performance they did to create a feminist cartographer toolkit at the last AWID Forum in Bahia, Brazil, where the theme was 'Feminist Futures'. When the performance was presented, on the last day of the Forum, we all had tears in our eyes. I think for a tiny moment we could really catch a glimpse of what a feminist anti-racist, queer world would look like. And that felt so good.
In a world where the news cycle seems to be speeding up faster and faster, art provides us with a way to slow down, weave the fabric of our politics and feelings together and come up with something that captures our zeitgeist, the spirit of the times. As feminists, as survivors, as queer people it's so important to create our own h*rstories and legacies and define us in our own terms. As many others recently I've had a tough time with the Kavanaugh hearings. As a survivor it's been triggering, as a feminist it's been enraging. I've been finding solace in my very carefully curated Instagram feed, in particular this illustration from co-creating queer duo Onbeinginyourbody has been making me feel better. An illustration by Lorraine Sorlet for the New Yorker magazine cover to mark one year of #MeToo really captures for me the ambiguous times we are living in suspended between unimaginable progress and insidious reactionism.
Another highlight for me this year have been a mural painted in Dublin showing the face of Savita Halappanavar, a woman who died because she couldn't access safe abortion, with a big YES in the background. The change in Ireland has been historic and almost too huge to grasp but at the end of day what matters most is that women and pregnant people will have access to life saving healthcare they have a right to. Activists started visiting the mural and leaving messages for Savita.
With Rebellion we are trying to create connections and solidarity to sustain our activism. I'm so thrilled that some of my favourite artists are part of Rebellion and so proud of this project which has represented a labour of love, bringing together a great group of colleagues across the organisation. Feminists love a t shirt. And badges, stickers, pins. Wearing and sharing your own politics is essential for movement building, for finding our people, especially in the visual culture we are immersed in. It's also a great tool to raise awareness and to fundraise. I hope you love and the t-shirts as much as we do and I hope wearing them sparks conversations and connections for you.
And finally, in case you wondered (and you should!) the t-shirts are made of organic cotton and certified fair trade. The Everpress format means that only ordered t-shirts will be produced so that's zero waste too.
In solidarity, in defiance
Chiara 
 
About Amnesty UK Blogs
Our blogs are written by Amnesty International staff, volunteers and other interested individuals, to encourage debate around human rights issues. They do not necessarily represent the views of Amnesty International.
View latest posts