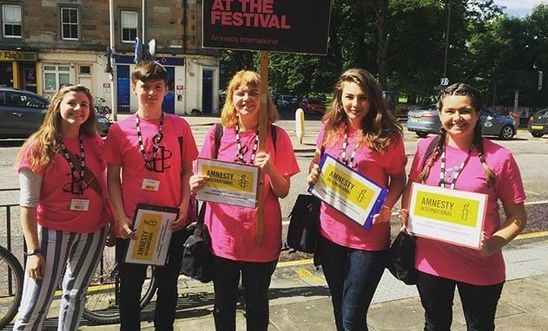 Every August a team of intrepid volunteers campaign on the streets of Edinburgh asking festival goers for their support for an Amnesty campaign. They're festival volunteers – FestiVols!
Previous campaigns have focussed on Venuezelan opposition leader Leopoldo Lopez, Iranian cartoonist Atena Farghadani and Chinese poet Liu Xia.
FestiVols also help us review fringe shows for the Freedom of Expression Award and let festival goers know about Amnesty's other festival activities. They are ambassadors for us, talking to people from dozens of different nations and backgrounds, who come to Edinburgh to celebrate art, creativity, culture and freedom of expression.
Click through to our blog to read about why our FestiVols signed up to help the campaign and what they've been up to during the festival.